Founders Day Speaker: Hugh Cale's Dream is Alive Today
---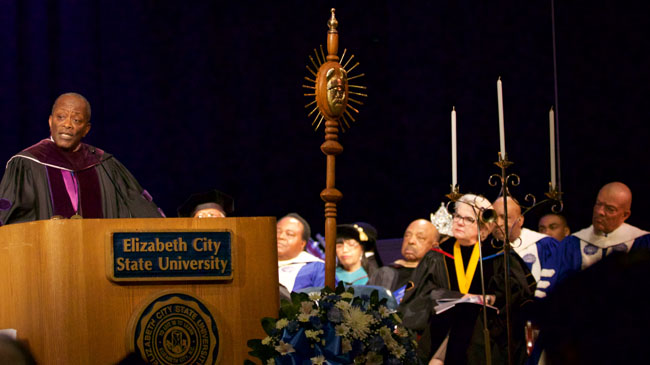 North Carolina Secretary of the Dept. of Revenue, Ronald Penny, was the keynote speaker during the Founders Day Convocation Friday, March 9. Seated to Penny's right is UNC System President Margaret Spellings.
Ronald Penny stood before a crowded auditorium at the Mickey L. Burnim Fine Arts Center Friday, March 9, to commemorate the 127th anniversary of the founding of Elizabeth City State University, and the dream of its founder, Hugh Cale.
Penny, a former University of North Carolina System professor – including ECSU – and senior administrator, and current North Carolina Secretary of the Department of Revenue, recounted Cale's life: born in Perquimans County in 1835 a free man. However, although he was free, Cale was an African-American man and the state general assembly had passed laws prohibiting African-Americans from voting, learning to read and write, and even owning a firearm.
Despite the adversity of the times in which Cale was born, Penny said he had a dream of a better world.
"In Hugh Cale's story he dreamed of a nation better than the one we were born into," said Penny.
Cale, who served as the first African-American Pasquotank County commissioner, a school board member, and eventually a state legislator, believed that the best way to economic freedom was through education, said Penny.
"Hugh Cale knew the biggest and best economic development project you can have is education," he said.
In 1891 Cale introduced House Bill 383 to the state general assembly. The purpose of that bill was to create the Elizabeth City State Normal School, "for the teaching and training of teachers of the colored race to teach in the common schools of the state."
With less than $1,000 appropriated from various existing normal schools in North Carolina, the Elizabeth City school was established, and would eventually evolve from a normal school, to a teachers college to a University of North Carolina System constituent university.
"The dream of Hugh Cale is sitting before me today, but you can't let it fritter away," Penny said. "We owe it to future generations to keep it alive."
During his time as an ECSU administrator and professor, Penny touched the lives of many of his students. In his current role as Secretary of the Dept. of Revenue, a man approached him, thanking him for Penny's role in educating him during his time as a student.
Penny recounted that the former student told him that he is the professional he is today because of ECSU; that ECSU made a difference in that man's life.
"I know the dream of Hugh Cale still lives," said Penny.
Penny, who is a graduate of North Carolina A & T, pointed out that Cale's influence was felt across the state of North Carolina. Cale had a hand in the development of other universities in the state, but that perhaps his greatest legacy will always be the dream that launched ECSU.
"Elizabeth City State says you can turn your dream into reality," said Penny.
Also attending the Founders Day ceremony were UNC System President Margaret Spellings, future ECSU Interim Chancellor and current UNC System Vice President of Student and Academic Affairs Dr. Karrie Dixon, Board of Trustees members, and members of the founding families, including Joseph Abram who spoke on behalf of the family of former school president, Dr. John H. Bias.
---