Founders Day Gala Celebrates Legacy of Viking Pride
---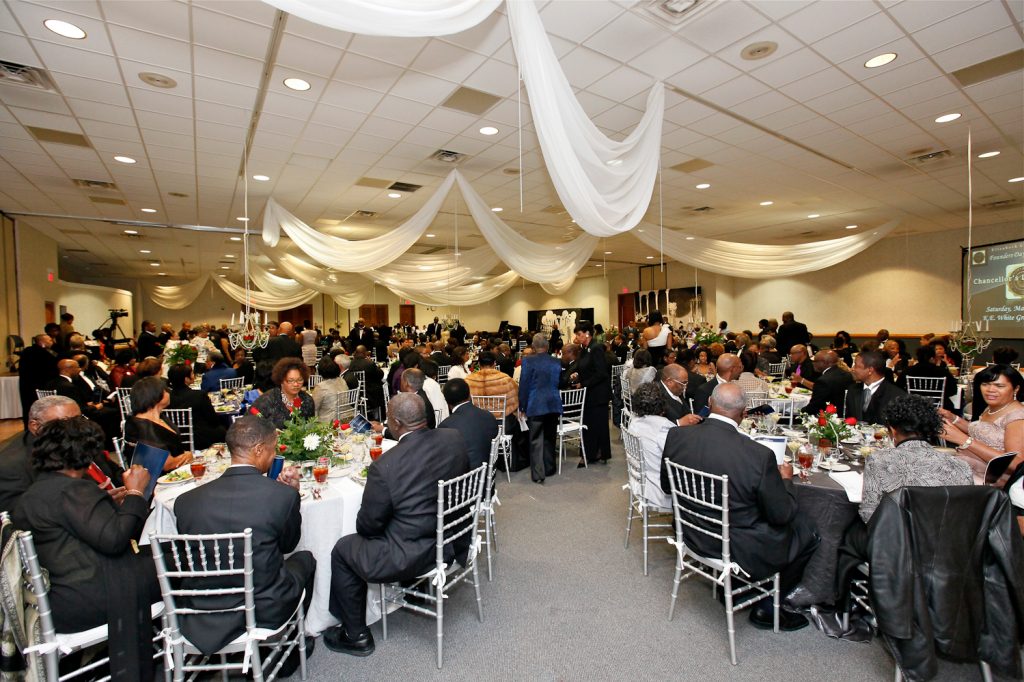 It's an evening of celebration, honors, and Viking Pride! On Saturday, March 10 Elizabeth City State University alumni, students, faculty, staff, and guests will gather in the K.E. White Center for the 11th annual Founders Day Scholarship Gala.
The evening is not only an opportunity to celebrate ECSU and the people who have contributed to its mission over the years, but also a chance to mingle with old friends, make new ones and continue the legacy of giving which generates scholarships for current and future students.
Catered by Montero's Restaurant, the evening will be full of honors and entertainment. Beginning at 5:30 p.m. with a reception, the sold-out main event kicks off at 7 p.m.
This year the gala will be emceed by Rodney Hawkins, co-founder of Evolve Therapeutic Counseling Service.
Hawkins is a 1999 ECSU graduate. He continued his education, earning an MBA from Strayer University and is currently working toward a doctorate in business administration.
The evening will be highlighting by the Chancellor's Legacy Award honorees. This year the Legacy Award recognizes nine people for their outstanding contribution to ECSU:
John Shelton Best: Best is a 1970 ECSU graduate.  In 1979 he founded Capitol Entertainment Services, Inc., which became the largest bus company in the District of Columbia operating a fleet of luxury coach buses, mini-buses, and sightseeing tour buses.
Bettie Parker: Parker is a 1971 ECSU graduate. She was recently elected and sworn in as Elizabeth City's first woman mayor, after serving as the Pasquotank County Board of Commissioner's first elected African-American commissioner.
Andy Hartsfield: Hartsfield recently completed his second full term as a member of the Elizabeth City State University Board of Trustees.
Mary Albritton Douglas: Douglas is a 1952 ECSU graduate. She stands as one of the top donors to the university and as a result, the theater inside the Walter N. and Henrietta B. Ridley Student Complex was named in her honor in 2009.
Dr. Paul A. Norman: Dr. Norman is a 1981 graduate of ECSU. He is a past president of the ECSU National Alumni Association, a former ECSU Mr. Alumni, has served on the ECSU Board of Visitors and Foundation Board. The UNC Board of Governors appointed him to serve as a member of the ECSU Board of Trustees where he served as vice chairman and chairman of the board.
Helen Muldrow: Helen Muldrow is a retired ECSU professor of biology, teaching full time from 1947 to 1984.
Dr. Ronald H. Blackmon: During his tenure of almost 30 years at ECSU, Dr. Blackmon has held several positions, including Provost and Vice Chancellor for Academic Affairs (2005–2008).
Susie Sharpless Hodges: A retired educator whose career spans 35 years, Hodges is a 1965 graduate of ECSU, then known as Elizabeth City State Teachers College. She is one of five sisters who graduated from ECSU.
Lt. Col. (retired) Tyron Wallace Eason: Eason graduated from ECSU in 1986 with a Bachelor of Science Degree in Geology, with a minor in Leadership and Management.
The evening will be capped off by dancing to the music of Wayne James Entertainment.
---