Forum spotlights native customs of ECSU Faculty
Posted On November 21, 2011
---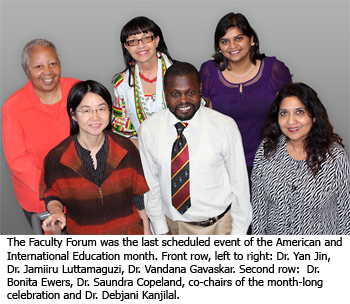 Kesha Williams
November 21, 2011
Elizabeth City State University's American and International Education Month celebration drew to a close with four faculty members making presentations that reflected on customs from their native country or region. Organizers said the event enabled students to learn more about the cultural backgrounds of ECSU faculty and faculty learned more about their peers.
Dr. Debjani Kanjilal, an assistant professor in the Walter R. Davis School of Business and Economics, is a native of Kolkata, India. Her topic, &quotWomen in Indian Cinema (Bollywood),&quot was a clever way to show the progression of women in Indian society. Her presentation revealed the most common female character types that India's producers have depicted on the big screen — the lover, the supportive wife, the strong mother who protects and encourages her family, the independent woman, the modern woman and the dancing girl. Kanjilal said the selection of movies in her personal collection reflects many of the classics that fans have enjoyed for years. She is delighted to have witnessed the positive impact that movies have made on viewers.
&quotIndian cinema has influenced our lives very much,&quot she said. &quotWomen in India are finding more opportunities in life, sharing responsibility equally with men. After watching women fight for their rights in movies, we are seeing more women taking on new roles in our culture. Women in society are more accepted now than decades ago when customs limited them to the house (in a homemaker role). Women have also been exploited in India, but it is good to see the advances they are making.&quot
Other presenters included Dr. Vandana Gavaskar, an associate professor in Language, Literature and Communication. Her topic was &quotPathways to Federal Government Careers in International Security Studies: ECSU to Create&ampnbsp MAC-CAE Scholars.&quot Gavaskar is from Delhi, India.
Dr. Yan Jin, an assistant professor in the Walter R. Davis School of Business and Economics, discussed &quotOnline Games in China.&quot
Dr. Jamiiru Luttamaguzi, a visiting assistant professor in the Department of Mathematics and Computer Science, spoke on &quotThe Uganda You Never Knew.&quot Luttamaguzi shared quick facts about this country of approximately 32 million residents. Uganda, he described, is the source of one of the world's most famous rivers, the Nile River. Common languages include Swahili, English, and languages of three families: Bantu, Nilotic, and Central Sudanic. In Uganda, Luttamaguzi told the audience, they would find plenty of sunshine.
&quotBecause the equator runs through this country, we enjoy almost 12 hours of sunlight all year,&quot he said. &quotThe temperatures are often between 71 and 81 degrees. You can enjoy bungee jumping, canoeing, many different kinds of birds, many flowers of the forest and seeing our national parks,&quot Luttamaguzi said.
Luttamaguzi, who has 26 siblings, said he can recite the names of his family members from the last 10 generations. He was also proud to say the country has enjoyed independence for the last 49 years.
---