Former ECSU athlete Celeste Trahan dominates
---
Will Harris/ The Daily Advance
July 31 2012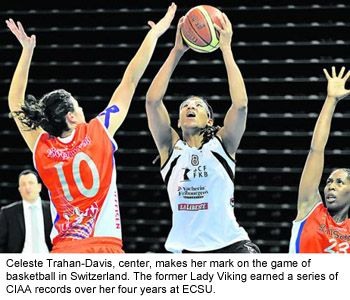 When Celeste Trahan-Davis left Elizabeth City State in 2008 she had established herself as one of the best NCAA Division II women's college basketball players ever. Last week Trahan-Davis returned to the ECSU campus as one of the best professional players in Europe.
&quotIt's really been an educational experience for me&quot Trahan-Davis said of her four-year professional career which has taken her to Germany and Switzerland. &quotIt's not only about basketball it's about learning and getting to see the world. Basketball has really helped me do things I want to do.&quot
Trahan-Davis recently finishing up her third season for Fribourg in the Swiss National Basketball League and was spending a few days in Elizabeth City working out with current ECSU women's coach Alico Dunk as she was travelling the area visiting with some old friends.
After winning the league title in 2010 Trahan-Davis led Fribourg back to the finals this season where they won the first game but ended up losing the best-of-five series 3-1 after she went down with a back injury in Game 3 and missed Game 4. Trahan-Davis led the league in scoring (29.1) and rebounds (15.5) and swept the major awards – Player Center and Import players of the year – for the third year in a row.
But the success she found in Switzerland is not enough for the 6-foot-2 center.
&quotI think that I need more of a challenge in order for me to get better&quot Trahan-Davis said.
&quotTalent-wise I'm dominating and I think it's a bit too easy and it makes it not really fun. I just need more competition so I think it's time for me to leave.&quot
Trahan-Davis then just Trahan left a slew of records behind after her four-year career at ECSU. She is the school's all-time leading scorer (2151) and rebounder (1542) a three-time national rebounding champion a two-time Central Intercollegiate Athletic Association Player of the Year and the first woman in Division II history to wrap up her career with than 2000 points and 1500 rebounds. Her No. 00 jersey hangs in the rafters at the R.L. Vaughan Center and is the only woman's number to be retired by the school.
With a resume like that it seemed that a pro career would be an easy transition. But it was not according to Trahan-Davis.
&quotI didn't know basketball&quot she said. &quotI think I was just getting by on my talent. I had to learn the game and know when to cut and the technical stuff. I struggled a lot with that but it made me realize I needed to look at tapes I needed to learn the game.&quot
And the off-the-court transition was difficult too for the introverted Trahan-Davis.
&quotThe longer I'm overseas the more comfortable I've become with meeting different people and being the foreigner there and just adapting&quot she said. &quotThe hardest thing for me was to be more comfortable with myself to allow people in my life and be open and more vocal. I've always been shy and kind of closed up. Learning how to trust people and talk to them is something I really struggled with at first.
&quotI was in a foreign place and I needed friends I needed someone to talk to so probably midway to the end of the (first) season I had to go outside my boundaries and meet people. I played better afterward because I had some types of relationships.&quot
Trahan-Davis still found success on the court averaging a double-double for the Saarlouis Royals of the Women's German Basketball League helping them win the league title in her first professional season in 2009 then moving over to dominate the Swiss league.
&quotMy game has grown a lot. I'm smarter more tactically sound&quot Trahan-Davis said.
Trahan-Davis is currently fielding offers from several teams in leagues located in countries like Sweden Finland and Luxembourg. She will decide her next destination soon but knows that basketball will not last forever. She is working on her master's degree in mental health counseling and the 27-year-old is looking forward to starting a family.
&quotI'm trying to go to school and play basketball at the same time which is a bit of a challenge&quot said Trahan-Davis. &quotI don't want to wait too late before I start my career. Probably in two or three more years I'll put the ball down. I'm not looking forward to that right at this moment but I need to do it and I want to have kids.&quot
The story appears courtesy of The Daily Advance .
---