'Forging Our Future': Chancellor Dixon Delivers Virtual ECSU Fall 2020 State of the University Address
---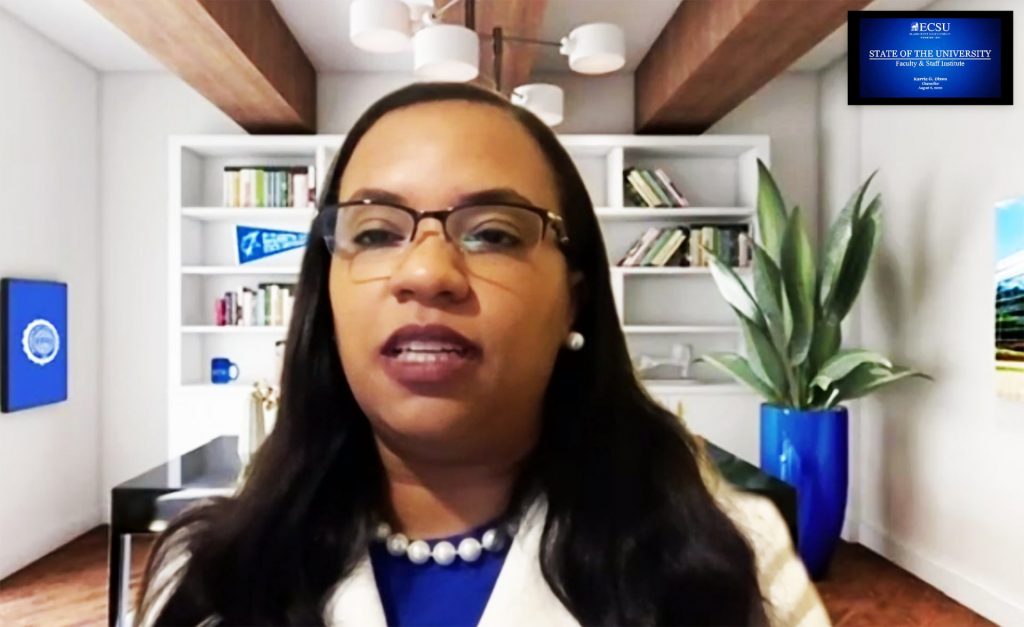 These are unprecedented times. Those were the words of Elizabeth City State University Chancellor Karrie G. Dixon as she gave the State of the University address during the fall 2020 Faculty/Staff Institute virtually.
Never before has the Faculty/Staff Institute been delivered online using virtual technology, but as ECSU navigates the challenges of the COVID-19 pandemic, unprecedented measures for the safety and wellbeing of the campus community are necessary, she said.
"Although we are in uncharted waters, we must be intentional as we move forward," said Chancellor Dixon.
In March 2020, the entire ECSU community moved to remote learning and remote work. During the COVID-19 pandemic, Chancellor Dixon pointed out that measures have been put in place to ensure that Vikings are safe, and their health is a number priority.
While remote learning and work have been the "new normal" for the past five months, the Viking community is returning to campus and in-person, as well as remote, as classes begin Aug. 11.
The theme for the 2020-2021 academic year is "Vikings Forward: Forging Our Future." Chancellor Dixon emphasized that during the coming semester, "effective and frequent communication is critical," and she will continue to be transparent with university decisions.
Over the past five months, Chancellor Dixon has issued 25 communiques via email to the Viking community. She has held virtual town halls to address concerns and launched the Viking Compass webpage, found HERE, to outline a plan of action as students, faculty, and staff return to campus.
As the pandemic continues, safety and wellbeing are top priorities and ECSU has issued a list of actions that must, she said, be adhered to by the entire campus, as well as visitors.
Masks and social distancing are required throughout the campus. Also, daily health checks by students, faculty and staff are required before they come to campus or leave their residence hall rooms.
If students suspect that they have been exposed to or have symptoms of COVID-19, they are directed to isolate and call the campus health services office immediately. Faculty and staff are likewise directed to conduct daily health checks, and if they have been exposed or test positive for COVID-19, they must contact Paula Gassaway in human resources.
"Full compliance is required," said Chancellor Dixon.
As ECSU navigates what Chancellor Dixon said is "truly a new normal," life on campus must continue and the future of the university must be a priority. New online programs are, she said, being considered, and the SACSCOC accreditation reaffirmation process is continuing as scheduled.
Every 10 years, university campuses are required to go through a reaffirmation process. ECSU began working with SACSCOC last year, led by the university's director of the SACSCOC committee, Dr. Dororthy Kersher-Aerga, and provost, Dr. Farrah Ward. 
Chancellor Dixon said a series of scheduled deadlines to continue the process are still in place and work to meet that schedule is moving forward.
On July 1, ECSU launched its new five-year strategic plan, found on the ECSU website HERE. Chancellor Dixon said the university will begin working on the plan's first year goals and priorities and changes will be made if necessary in the coming months.
She also addressed recent news that the UNC System Board of Governors had requested that each of the 17 system campuses submit a contingency plan in the event that budget cuts become necessary. Chancellor Dixon emphasized that this plan is for a "worst-case scenario" only and that ECSU is currently on solid financial ground with ongoing campus improvement and renovations moving forward as planned.
"We don't know what will happen, but what we do know is that we will do what we need to do to be good stewards," she said.
Chancellor Dixon also said she will "be transparent in providing you with information as it comes."
She reminded faculty and staff of the need to for Accountability, Commitment, and Excellence, or A.C.E. It has to be, she said, "a mindset."
"Together, we will forge the future of our beloved ECSU," she said.
---