Five Named to 2018 ECSU Sports Hall of Fame Roster
Posted On October 26, 2018
---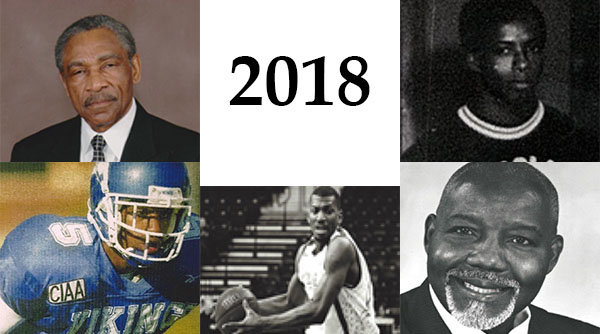 The 2018 ECSU Sports Hall of Fame are, clockwise starting top left, Leroy Williams, Jesse Carmon, Scotty Arnold, Anthony Hillard, and Howard Williams.

The 2018 Elizabeth City State University Sports Hall of Fame inductees will line up during Friday night's banquet to be honored for their contributions to Viking sports programs. This year five Vikings will be honored at the annual event.
Howard O. Williams, Jr.
Williams is a 2005 ECSU graduate and Viking football defensive back. According to his Hall of Fame bio, Williams, "was arguably the most feared defensive back," in the CIAA.
During his final year at ECSU, Williams was twice named CIAA Defensive Back of the Week. He led the league with a best of 10 interceptions.
During his rookie year, Williams was named to the All CIAA Rookie Team. In 2003, he was selected as All CIAA.
Williams would go on to play in the East Coast Bowl in New Orleans. He would eventually play semi-pro football in Virginia before coaching defensive backs and receivers at Pasquotank County High School.
He is married to Leonda Williams and together they have three children.
Scotty Arnold
A Jacksonville, North Carolina native, Scott Arnold is a graduate of the ECSU Class of 1988. During his time at ECSU, Arnold was a four-year starter for the Vikings football team.
In 1985, Arnold was named Defensive Player of the Fish Bowl game against Norfolk State. He was also named CIAA Defensive Player of the Week, and named to the CIAA second team all-conference team twice in his college career.
He was also awarded the Thomas L. Caldwell Award in 1986, and served as team captain in 1986 and 1987.
Arnold graduated with a bachelor's of science degree in criminal justice and worked in law enforcement. He served as a police officer for the Montgomery County, Maryland Police Department for 22 years before retiring. He also served on the Washington D.C. Sniper Emergency Response Team.
Anthony M. Hillard
Anthony M. Hillard came to ECSU from Fayetteville, North Carolina in 2005. As a freshman basketball player, he was recognized as the CIAA Rookie of the Year in 2005-2006. He was also named to the Fresh Coast Basketball Classic Team and named Most Valuable Player in 2006.
In 2007, Hillard was named as the CIAA MVP Tournament Player and featured in Sports Illustrated as a "Face in the Crowd" to watch.
Hillard was named the Male Athlete of the Year at ECSU from 2007-2009. He received the R.L. Vaughan Award, ECSU MVP Award, and Daktronics All American Award.
He would go on to play professional basketball in the Belgium League where he was awarded a number of honors. For his accomplishments at ECSU, Hillard's #3 jersey was retired in 2009.
Leroy F. Williams, Jr.
Leroy F. Williams, Jr. is came to ECSU from Nashville, North Carolina. Legendary ECSU football coach, Thomas Caldwell, recruited him in 1961.
As part of the starting lineup during his entire four-year ECSU football career, Williams was ECSU's co-captain and named to the All CIAA football squad in 1965.
Although Williams was invited to play for the Denver Broncos in 1965, he had a commitment to the U.S. Army. He would serve with the 101st and 82nd Airborne Divisions during the Vietnam War, and then 17 years with the Washington D.C. National Guard.
Williams would retire from the military in 2003 as a master sergeant.
Williams has been married to Celeste Carr Williams for 53 years.
Jesse O. Carmon
Jesse O. Carmon attended ECSU from 1966 to 1970. He was a health and physical education major and the co-captain of the ECSU wrestling team.
In 1970, Carmon was the runner-up in the NAIA District 29 Tournament. He wrestled in the CIAA finals twice before taking the championship in his weight class in 1970.
After ECSU, Carmon enrolled at the City University of New York's College of Staten Island where he majored in engineering science with a specialty in software engineering. He would go on to work for a number of organizations, including the City of New York's Dept. of Consumer Affairs in the systems division.
During the last years of his career, and up until retirement, Carmon was a consultant working with software systems projects for banking, brokerage, and insurance systems.
---