Five Board of Trustees Members Bid Farewell as Terms Expire
---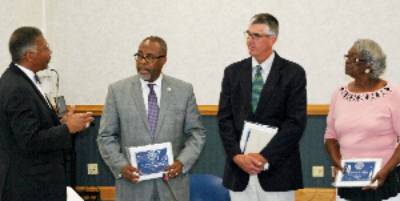 As their terms expired there were thanks gratitude and a farewell for five members of the Elizabeth City State University Board of Trustees on Tuesday June 13. But as Chancellor Thomas Conway said the work of these members will have a lasting impact on ECSU and they will continue to carry the Viking legacy wherever they go.
During the quarterly regular meeting of the Board of Trustees Chancellor Conway presented Dr. Paul Norman Dr. Joe Jenkins Andy Hartsfield Virginia Tillett and Harvey Walker Jr. with a plaque commemorating service to ECSU and big thanks as they participated in their last board meeting.
Dr. Norman an ECSU graduate is a retired educator. Forever grateful for the impact his alma mater has had on his life Norman said it is not just him but also his entire family that has benefited from the university and its legacy.
A past president of the ECSU National Alumni Association Dr. Norman was appointed to the Board of Trustees by the University of North Carolina Board of Governors in 2009.
Dr. Jenkins is an Elizabeth City native and surgeon. A graduate of the University of North Carolina at Chapel Hill and Tar Heel basketball player Dr. Jenkins has served on numerous boards in the Elizabeth City area including the Boys Club the Police Athletic League and the Mayor's Vision 2020 Task Force.
He was appointed to the Board of Trustees in 2013.
Andy Hartsfield is a retired vice president of public policy and advocacy. A graduate of UNC Chapel Hill and the Wake Forest University School of Law Hartsfield has served on the Board of Trustees since 2008.
Virginia Tillett is a retired educator from Dare County and a graduate of ECSU. Living in Manteo Tillett has been an active member of her community including her work as a charter member of the Kiwanis Club of Roanoke Island and president of the Roanoke Island Freedman's Colony.
Tillett was appointed to the Board of Trustees by the UNC Board of Governors in 2009.
Harvey Walker is Mayor Pro-Tem of Morehead City North Carolina. He is also the CEO of Coastal Carolina Industries.
A graduate of Western Carolina University Walker has served on the ECSU Board of Trustees since 2013.
The next Board of Trustees meeting will be held Sept. 12 2017. During that meeting four new members will be introduced. The commander of Coast Guard Base Elizabeth City Cmdr. Bruce Brown Retired President of College of the Albemarle Lynn Bunch and ECSU alumni Dr. Stephanie Johnson and Kennis Wilkins will all be sworn in as the newest board members.
---