First-Ever ECSU Drone Academy Preps Students for Aviation's Unmanned Future
---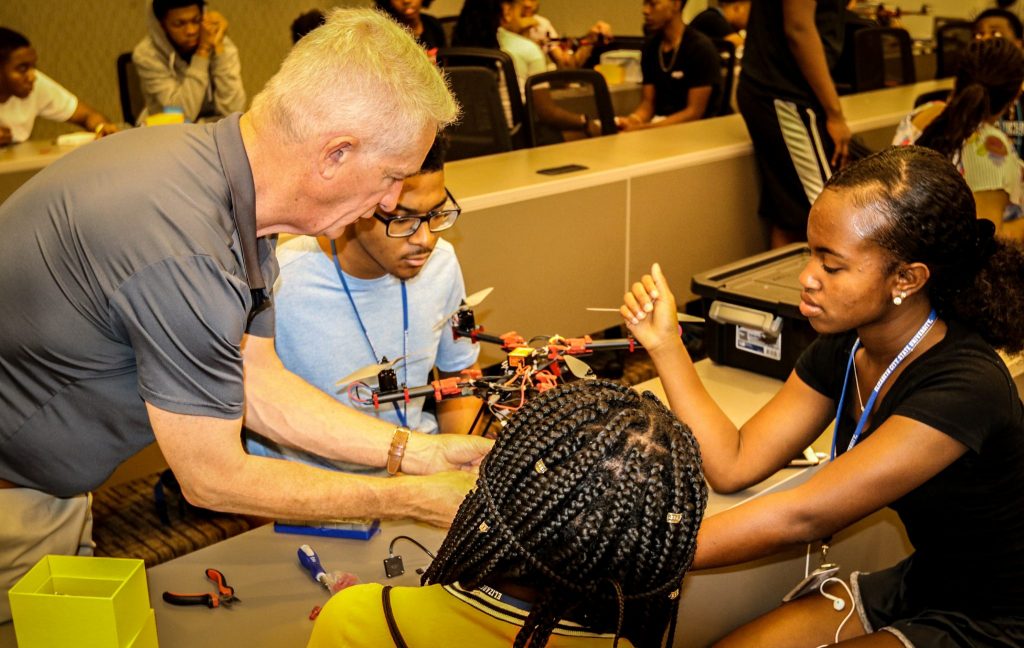 Ron Poynter, president of OnPoynt, left, works with high school students Elijah Gilbert, center, and Asani Warren, right, on the construction of their team's drone. The students are attending ECSU's first-ever Drone Academy.
Elijah Gilbert's laser-like gaze zeros in on a small wire atop his drone. Ron Poynter stands over Gilbert, offering direction on the construction of a drone that Poynter's company, OnPoynt, created for camps such as Elizabeth City State University's first-ever Drone Academy.
While Poynter works with Gilbert and his drone team members on the construction of their vehicle, a room full of high school students do likewise. All of them are preparing for the big Drone Academy competition to come later in the week.
The Drone Academy is ECSU's first foray into a week-long residential program aimed at giving high school students firsthand experience with the increasingly popular technology. Dr. Kuldeep Rawat, ECSU's dean of aviation science and technology, says it's a chance for these 39 high school students from across the country to dive into the world of drone technology, discover the science behind them, and learn about the expansive career opportunities drone technology offers them.
"We are capitalizing on the excitement surrounding the drones and showing them that these are career opportunities, not just hobbies," said Dr. Rawat. "And we are building a pipeline of future students."
ECSU will be offering a bachelor's degree in drone technology beginning this fall. These high school students, says Dr. Rawat, if they choose to pursue such a degree, will already have a solid foundation from which they can begin their degree work.
"They have a leg up," he said of students attending the Drone Academy.
The expressed goal of the Drone Academy, as Dr. Rawat stated, is to capitalize on the growing popularity of drones and spark student interest in the technology. Funded through a $320, 000 grant from NASA, and an $180,000 grant from the Burroughs Wellcome Fund, students from across North Carolina and states like Pennsylvania, New Jersey, and Maryland are discovering the future of aviation technology.
"The foundation is being built right now," said Dr. Rawat of the camp's efforts.
For Gilbert, a 16-year old from Greensboro, North Carolina, the camp is a chance to not only learn about the technology, but also discover possibilities for a future career.
"I thought it could expand my career choice when I go to college," he said.
The 39 students are divided into teams of three or four. They are tasked with not only learning about the technology and the applications drones provide, but also constructing the unmanned aerial vehicles – drones are officially referred to as UAVs.
Ron Poynter's company manufactures the kits these students are working with, and he's onsite to assist Dr. Rawat and his staff with the construction of the drones.
"I wanted to come out and make sure everything works right," he said.
Poynter is a retired U.S. Army helicopter pilot who saw the future in drones. He launched his Dallas, Texas-based company in response to the growing drone industry.
Back in 2013, Poynter was involved with a similar drone camp in Texas and he's been providing these kits to camps and classrooms ever since then.
Poynter says the work these students are doing now will go a long way toward their future. Whether they pursue a career in drones or not, the technology is increasingly becoming a part of their lives.
Poynter points to the future of drone technology by using the popular ride-share company Uber as an example. Uber is currently working on the development of an autonomous air taxi that uses drone technology.
Drones, he says, can do far more work in the air than conventional aviation technology.
As Gilbert and his teammates construct their drone, they are anticipating the days ahead. Dr. Rawat says that the drone construction process is approximately 14 hours, which includes testing the machines.
Once the drone construction is complete, the teams will be competing against one another. Dr. Rawat says an obstacle course will be set up in the field adjacent to the K.E. White Center where they will compete.
On the last day of camp, Friday, the students will participate in a closing ceremony. Honors will be given to students for their participation in the ECSU Drone Academy.
---