Fall Faculty/Staff Conference held August 9 -11 "Promoting a Climate of Success"
Posted On August 15, 2011
---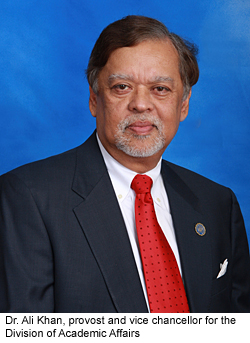 Kesha Williams
August 15, 2011 Dr. Ali Khan, provost and vice chancellor for the Division of Academic Affairs, brought six guest speakers to this year's Faculty/ Staff Conference. This year's first speaker, the Rev. Dr. Jamie Washington warned the audience this would be no routine session where the speaker talks more than the audience. Washington turned to the theme of the conference, &quotPromoting a Climate of Success&quot and asked everyone to review their role and responsibility in promoting success at ECSU. &quotAll of our perspectives matter. We need to hear the voice of history here at the university and honor the culture that makes this a special place. We must cross generations and navigate our feelings,&quot Washington said. &quotWe must do our part in higher education to make the planet a better place.&quotWashington advised the audience to take several personal steps to promote success at the university:
Make a point of meeting new people at the university.
Reflect on those reasons you enjoy working here, the successful tasks completed and determine the factors that impede your ability to complete projects.
Collaborate with other departments to complete tasks.
Seek to understand others.
Stretch to try new methods&ampnbsp stretch to interact with people other than those you work with each day.
The Rev. Dr. Washington serves as the President and Founder of the Washington Consulting Group, a Multicultural Organizational Development Firm based in Baltimore, Md. He is also a senior consultant with The Equity Consulting Group of California, and Elsie Y. Cross and Associates out of Philadelphia. Dr. Washington has served as an educator and administrator in higher education for over 20 years. He most recently served as the Assistant Vice President for Student Affairs at the University of Maryland Baltimore County (UMBC). He has been an instructor in Sociology, American Studies and Education, and an Assistant Professor of Women's Studies at UMBC. As a native Philadelphian, Dr. Washington earned his B.S. degree in Therapeutic Recreation and Music from Slippery Rock State College, and a double Masters' of Science degree from Indiana University/Bloomington in Higher Education Administration and Counseling, with a concentration in Human Sexuality. He holds a Ph.D. is in College Student Development, with a concentration in Multicultural Education from the University of Maryland College Park. Dr. Washington completed his Master of Divinity program at Howard University School of Divinity in May of 2004.Dr. Khan was proud to bring speakers to the annual faculty/staff conference who could speak on such a wide range of topics &quotThe presenters and speakers represent a wealth of talent, diversity and experience that contributes to exceptional faculty/staff professional development as well as policy development,&quot Khan said.Other guest speakers include:
Dr. Sharon Robinson, keynote speaker for the second day of the conference. She is president of the American Association of Colleges for Teacher Education.
Dr. Kathleen P. (Kathy) King, an interactive, motivational keynoter and a professor of Education at the University of South Florida.&ampnbsp Her topic was &quotAddressing 21st Century Learning and Changes in Higher Education: Teaching Better with Technology.&quot
Dr. Benjamin M. Coulter, a manager-system implementation who leads TaskStream's implementation and education initiatives in North Carolina and the Southeast. His presentation title was &quotTask Stream-Advancing Excellence in Education.&quot
Dr. Lesia Crumpton-Young, a professor of Industrial Engineering and co director&ampnbsp for the Center for Advancing Faculty Excellence at the University of Central Florida.
Dr. Robert L. Armacost, an Associate Professor Emeritus in the Department of Industrial Engineering and Management Systems at the University of Central Florida where he serves as Special Advisor to the Dean in the College of Medicine at the University of Central Florida. His topic was &quotImplementing the QEP.&quot
---