Fall 2019 ECSU Enrollment Numbers are Looking Up
---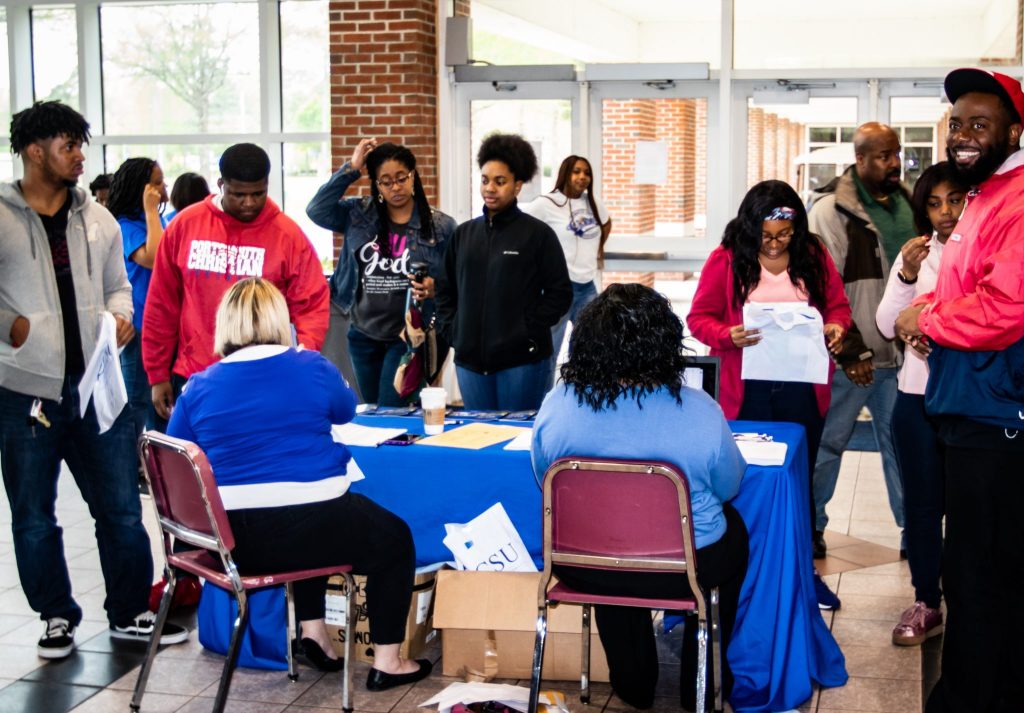 Prospective freshmen register to attend ECSU's spring 2019 open house. Freshmen applications are up over last year, and the fall enrollment goal of 1,800 is looking good, according to a report given to the Board of Trustees earlier this month.
When Elizabeth City State University's Dr. Althea Riddick presented an enrollment update to the Board of Trustees during their recent quarterly board meeting, it was clear that more students are looking to the institution for their futures.
Dr. Riddick, who is associate vice chancellor for enrollment management, told the Board of Trustees that the university's enrollment goal of 1,800 students is on track for the fall 2019 semester.
In a Power Point presentation to the board, Dr. Riddick showed that as of June 10, the number of admitted applicants is up by 13 percent over last year. That puts the number at 1,523 this year compared to 1,343 in 2018.
In addition, she said admitted transfer applications is up by 8 percent over last year. That puts admitted transfer applications at 176 this year compared to 163 last year.
The total number of applications received this year is also up compared to last year. This year the total is 2,647 compared to last year's 2,454.
She said that is an 8 percent increase in both freshman and transfer student applications.
As of the June 11 board meeting, the total number of new freshmen applications received was 2,438, and the total of transfer applications was 209. Last year at this time, the total of freshmen applications was 2,260 and transfer applications was 194.
Dr. Riddick told the board that unlike other institutions, ECSU does not stop accepting applications, indicating that the numbers may keep growing.
Transfer applications are up in part due to a growing number of enrollment agreements with community colleges across the state and region. Currently ECSU has agreements with College of the Albemarle, Pitt Community College, Martin Community College, Halifax Community College, and Sandhills Community College.
Other factors for enrollment growth include the NC Promise Tuition Program. ECSU is one of three UNC System schools to offer $500 per semester in-state tuition, and $2,500 per semester for out-of-state tuition.
Also drawing student interest are a number of new degree programs. In the fall, the aviation program will offer for the first time its bachelor's degree in drone technology. Other new programs include a degree in homeland security and a bachelor's in sustainability, which is contingent on final approval from SACSCOC and the U.S. Department of Education, and is scheduled to launch in the fall of 2020.
---