Faculty Profile: Dwayne Ponton Wants ECSU to Produce the Best Criminal Justice Professionals in the World
Posted On August 19, 2021
---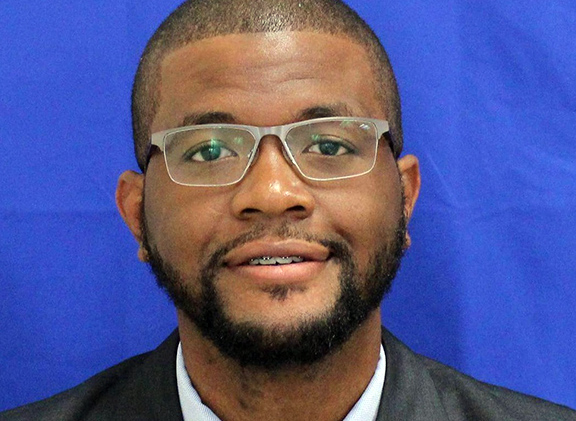 Dwayne Ponton is a proud Viking. The criminal justice professor and lecturer has, by his own account, spent most of his adult life to date at Elizabeth City State University. It is, he says, very much a part of him.
"Elizabeth City is like a home away from home," said the 2017 ECSU graduate. "I have always been committed to the ideals of which the university has been founded upon as a student, and now service as a faculty member. Under the leadership of Chancellor (Karrie G.) Dixon, and my current chain of command, I can be rest assured that my decision in coming to work for ECSU is one of the best decisions I could have ever made."
Mr. Ponton – he is currently working on his doctorate degree – came to ECSU as a criminal justice major with a minor in geographic information systems and remote sensing. The North Carolina native says as a student, he had been afforded a lot of "rewarding experiences and opportunities," at ECSU that have worked to guide him through his education and now his career in criminal justice and higher education.
As a student, Mr. Ponton was very active in extracurricular life on campus from serving as vice president of the Student Government Association to Resident Assistant to studying abroad in India, to name just a few. He also received the Chancellor's Leadership Award in 2016.
"I took advantage of every opportunity, or just about, at ECSU and I have enjoyed every moment," he said. "These opportunities not only kept me focused, but it also molded me into the individual I am today."
For Mr. Ponton, enrolling at ECSU as a criminal justice major was a "no brainer." Growing up, he says he had an interest in law enforcement and during high school that interest was sparked by the popular crime procedural television series, "Law and Order."
"I remember just getting frustrated and excited when trying to figure out who committed the crime," he said. "More importantly, I remember having a great relationship with my high school SRO officer, who took me under his wing and when I graduated from ECSU, he gave me my first criminal justice career opportunity by hiring me as an entry-level police officer."
While police work would certain fulfill some of Mr. Ponton's desire to pursue a career in criminal justice, it wouldn't be enough for him. There are, he says, so many aspects to his area of interest that he might have found himself trying out every criminal justice profession he could get his hands on.
"The compromise that I found, is that it is easier to teach about all of the subject matters rather than trying to physically do it all," he said. "But more importantly, it is my way of giving back to my alma mater, in helping ensure that ECSU provides the best criminal justice professionals that the world could possibly produce."
And so, since August 2020, Mr. Ponton has been following that path, teaching future criminal justice professionals at ECSU.
"I hope to inspire my students to be the best criminal justice professionals that the world has ever seen," he said. "Being a product of the ECSU Criminal Justice Program myself, and a scholarship recipient, I understand the importance of how scholarships afforded me the opportunity to have a fully funded undergraduate experience, allowing me to have the funds available to pursue my masters and now doctoral degree."
His goal as a professor at ECSU, he says, is to "ensure that every student is afforded and introduced to the same opportunities and to be financially secure."
"So that my students can be the best scholarly learners and teachers of the subject matter for which they are trying to learn and obtain," he said.
As an ECSU student, Mr. Ponton learned that his professors are very much members of the Viking family and they were there for him. He wants his students to have that same experience and know that he too is here for them.
"I love my field of criminal justice and it is an honor that I can profess my passion for the field I love to the students that I know are the best criminal justice students not just in the UNC System, but in the world," he said.
Mr. Ponton says he urges his students to be committed, expand their knowledge, and believe in themselves.
"We're all in this together," he said. "Viking Pride! Viking Pride! Viking Pride!"
---