Faculty Art Show begins October 10 at ECSU Art Gallery
Posted On October 9, 2013
---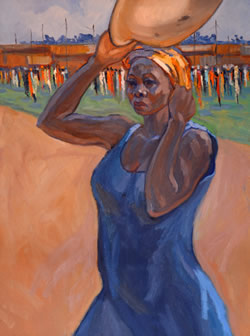 Kesha Williams
October 09, 2013
The Art Department at Elizabeth City State University announces new additions to the African Renaissance Forward Collection. In addition, see works by three faculty, Clarence Goss Jr, Drusiano Scerbo, and Jeff Whelan. From 5.30 p.m. to 8 p.m. on October 10, enjoy the first viewing of these new art works in room # 130 of the Kermit E. White Graduate and Continuing Education Center.
The Art Department started a permanent collection of African/American Art which reveals work by contemporary African/American artists whose work extends beyond the Harlem Renaissance. This Forward Collection bridges the conceptual gap in the history of art from the African Diaspora in general and the African American art in particular.
The art collection takes viewers from the once limited expectations of African art marked by masks and African iconic fetishes to a collection of work rich in diverse styles, media concepts and artistic formats. The African Renaissance Forward Collection represents a sample of students and heirs of the masters from the Harlem Renaissance as well as contemporary African artists. Many continued their work with similar thematic, aesthetic and iconographic paths as their predecessors. There is no entry fee to the view art in the ECSU Art Gallery. For more information, contact Professor Alexis Joyner, 252-335-3345, arjoyner@mail.ecsu.edu.
---