Eyricka Johnson's Love of History is Taking Her Places
---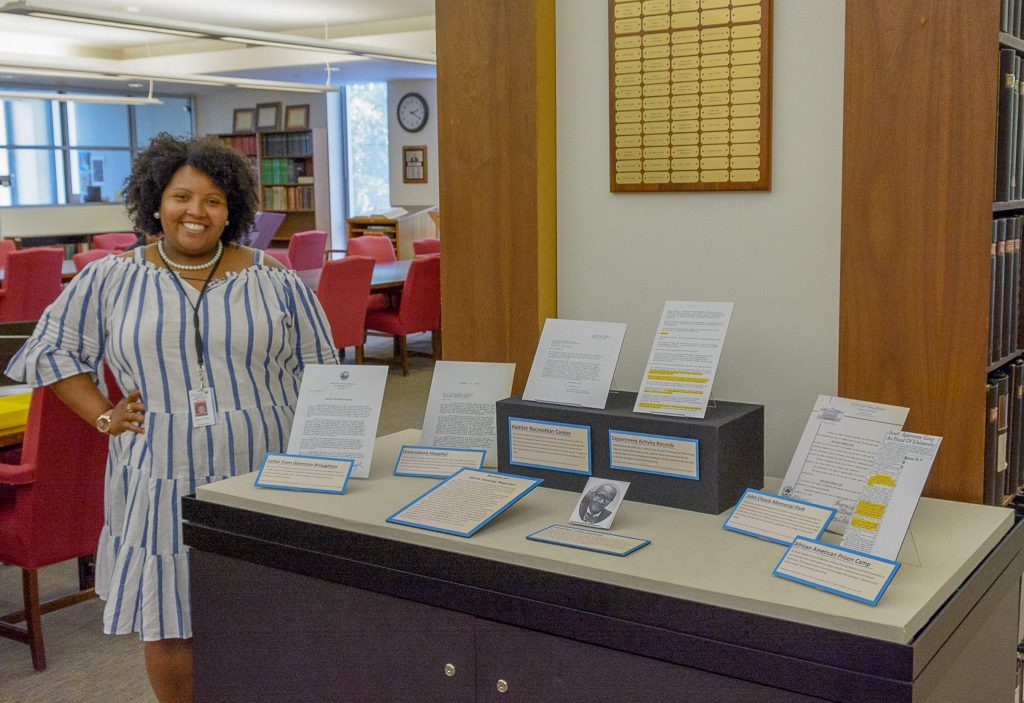 ECSU senior Eyricka Johnson is spending her summer interning at the North Carolina Department of Natural and Cultural Resources, researching African American history.
Dr. Seuss, in his acclaimed book, "Oh the Places You'll Go," observed that "The more things you know, the more places you'll go." For Elizabeth City State University history major Eyricka Johnson few words could be more true as she digs through African American historical archives in Raleigh.
As a student at ECSU, Johnson has been immersed in the world of history, now taking on her second internship since becoming a Viking. History is a passion for her, and it is a precursor to law school, a path trudged by many history majors before her.
Johnson, a Wake Forest native, is currently spending her summer interning at the North Carolina Department of Natural and Cultural Resources. It is, she says, a place where she can deepen her understanding of North Carolina African American history.
Johnson is currently researching a now defunct state agency, the Bureau of Work Among Negroes, established in 1925 and disbanded in the 1960s. She is diving into state archives and learning what this and other similar agencies did for the state's African American population.
"I want to promote this information in my department and get other history students interested in this," said Johnson.
The bureau, says Johnson, recruited and trained social workers across the state. One of the exciting aspects of her research, she said, was discovering correspondence between the state agency and the leadership at ECSU.
"There are a lot of different events the bureau did, and a lot of correspondence on the different events," she said.
Johnson says another reason this research excites her is its focus on the African American population in the early 20th century.
"The agency was administered for African Americans by African Americans," she said. "I really like seeing how the agency helped facilitate a conversation about creating services and providing basic necessities for African Americans."
Last summer, Johnson's internship kept her closer to campus, at the Elizabeth City-based Museum of the Albemarle. There she worked under the guidance of museum curator Wanda Lassiter, in the artifacts department.
At the museum, Johnson was able to learn about handling the collections, and inventorying the artifacts. Back then, she observed that, "The artifacts make (history) real."
The ECSU senior's journey through history began when she was a student at a private, two-year institution, Louisburg College. She began as a psychology major, but friends who recognized her love of history encouraged her to pursue the study of past events.
That decision had originally led Johnson to concentrate on becoming a history teacher. However, like many history majors before her, a study of the law was calling her and so she came up with a plan.
Johnson says she is currently preparing to take the Law School Admissions Test, or LSAT. She will take the exam in September, she said, ahead of graduation in December.
Johnson says she plans to attend law school at North Carolina Central University in Durham starting in January 2020.
---