Exchange program allows ECSU student to study in Queretaro Mexico
---
Bonnie Winston
June 21 2011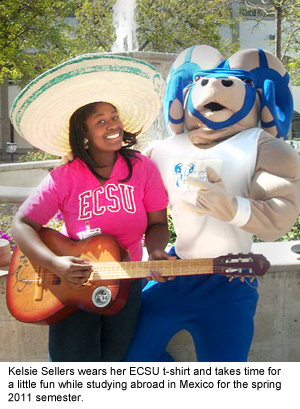 When Kelsie A. Sellers summoned the courage to fill out Elizabeth City State University's study abroad application little did she realize the enormous impact it would have on her life.
The 20-year-old mass communications major from Albemarle N.C. who'd never traveled outside the United States spent five months living with a family in Queretaro Mexico while studying at Tecnologico de Monterrey. She returned home in May a changed person. Now fluent in Spanish the rising junior has a host of new friends greater confidence and a new outlook on the world and her future.
&quotTalk about maturity I had to grow up&quot Sellers laughed. &quotI had to handle situations on my own – from getting lost not speaking the language very well initially and learning to trust people to making do with the resources you have. I learned to open up and to let things go – that things aren't always as you plan. But you learn to accept things adjust and make the best of it.&quot
Sellers speaks with enthusiasm and excitement about her sojourn in the metropolis located about 130 miles northwest of Mexico City. She walked 30 minutes several times each day from the home of her host family – the wife is Mexican and the husband is Japanese – to the university's campus. Her classes – Geopolitics Mexican culture and Intercultural Communications — thankfully she said were taught in English. Her Spanish class was taught in Spanish.
Learning took place beyond the classroom in social interactions with her fellow students. &quotThey were from across the globe – Morocco to Australia&quot she said. They hung out in plazas went to concerts and festivals and enjoyed home-cooked dinners and street vendors' food.
Her weekends were spent traveling and engaging in conversations and activities with native Mexicans. She visited well-known tourist spots such as Cancun as well as tiny off-the-beaten-path places that were the equivalent of a 30-cent bus ride away.
&quotIn some places I don't think they'd seen a black person before&quot Sellers said. &quotPeople came up to me touched me wanted to touch my hair and follow me home. A lot of people asked to take photos of me. One man actually asked if I would take a picture with his 2-year-old child.
&quotAt one point I got tired of it. But I realized they weren't being rude or disrespectful. They were just curious&quot Sellers said. &quotAnd when I opened my mouth I wanted to make sure that my Spanish was good. I was representing not only America but black people as well.&quot
Wearing a lace-front wig Sellers traipsed through Mexico an informal cultural ambassador herself. She met a young Mexican man at a club who was enthralled with African-American culture learned mostly from television shows including comedian Dave Chappelle's.
&quotHe used the 'N-word'&quot Sellers said. &quotAnd I told him I don't use that word. And I explained why. We talked about it and other things he'd seen on television. And when I left he actually thanked me for coming to Mexico. It was like we'd bridged the gap culturally.&quot
Her study abroad experience was total language and cultural immersion. It gives her a fluency when she speaks Spanish today. She holds conversations in Spanish with anyone she meets who is a native speaker including employees at a nearby grocery store.
She'll also use her language skills when she talks with her new friends from Mexico by Skype. They all plan to keep in touch. While in Mexico she used Skype to stay in touch with her mother back in North Carolina.
Sellers is the third oldest in a family of seven siblings. &quotI thought studying abroad would be too expensive or I wouldn't get the opportunity&quot she said.
But curiosity about the world and other cultures spurred her to take the step to study overseas. She'd heard stories from other ECSU students and members of the International Club about their experiences. &quotI felt it was the time in my life when I had to kick it up a notch&quot Sellers said. &quotThis opportunity was bestowed on me so I decided to take it.&quot
Family friends church members former middle and high school teachers and community organizations including the Order of the Eastern Star helped her raise funds making her desire to study abroad possible.
&quotMexico is really a part of me now&quot Sellers said. &quotAnd it will be for the rest of my life.&quot
---