Engineering Technology students solve the engineering project for DRS
---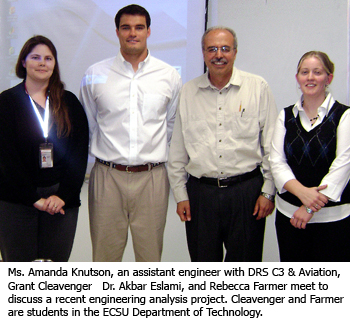 Kesha Williams
June 07, 2010
Engineering Technology students, Rebecca Farmer and Grant Cleavenger, under guidance of Dr. Akbar Eslami, a faculty member of ECSU Department of Technology, conducted an engineering analysis problem in their design project course for DRS Technologies Inc. DRS is a private air craft contractor for the United States Coast Guard, located in Elizabeth City, NC.&ampnbsp The focus of this project was to analyze the stress on the members of a truss assembly, which is installed in the ceiling of DRS hanger.&ampnbsp Two Cables are connected to the truss assembly to secure workers while they are working on an aircraft any distance above the ground. The truss assembly, along with the cables and the harness system, keep workers safe while working on the aircraft.
The students used a written report and visual presentation to report the results of project to faculty, students, and Ms. Amanda Knutson, an assistant engineer with DRS C3 &ampamp Aviation. Dr. Akbar Eslami, advisor and mentor of the project said in order to complete this project, students had to develop some mathematic models and utilize engineering software for calculation. Also, this project is a good example of how Engineering analysis is used in real-world applications. The project began in fall 2009 semester and completed at the end of spring 2010 semester.
&quotThe engineering project that Rebecca and Grant presented was invaluable and serves as a great example of actual engineering problems and the principles and techniques available to solve them. Being able to use a computer-aided design program to model as well as analyze a design is no small achievement and they will no doubt be able to draw upon what they learned in this course in future engineering endeavors.&quot Knutson said.
---