Emerging Leaders Forum Gives Students Glimpse of Bright Future
Posted On October 26, 2018
---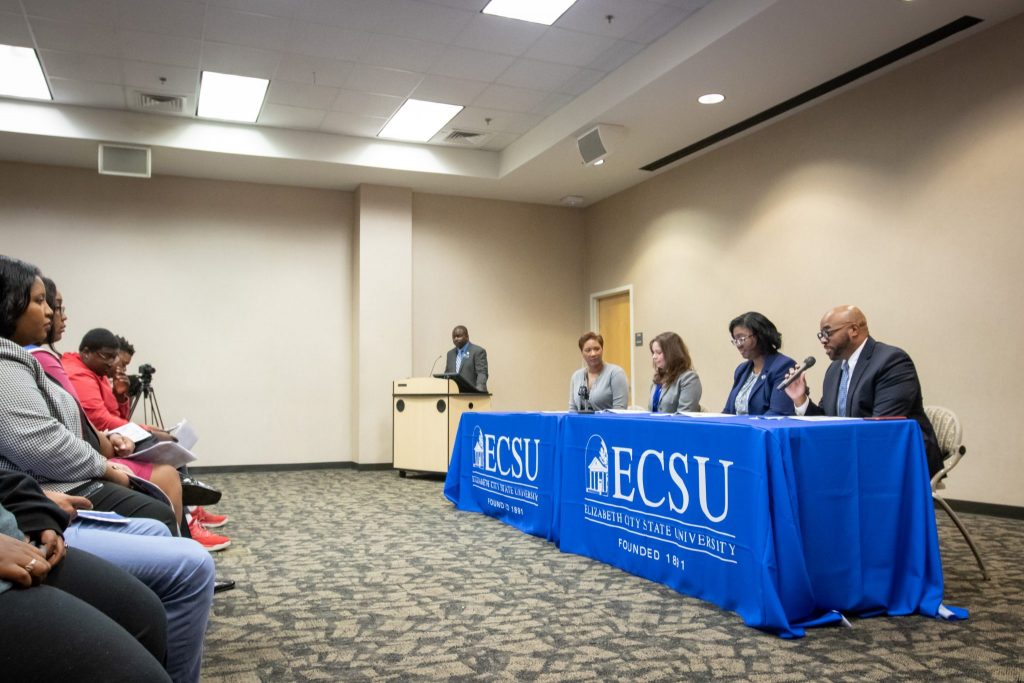 Elizabeth City State University alum, Dr. Otis Smallwood, talks about his experience as a student during Thursday's Emerging Leaders Forum. Joining Smallwood was, left to right, Lasindra Webb, Rachel Haines, and The Honorable Eula Reid. Alumni relations director Enoch Bond, far left, moderated the panel.

Four Elizabeth City State University graduates sat before a standing room only crowd of students at the Ridley Student Center, extoling the virtues of life as a Viking, and celebrating the experience that launched their careers.
This was the Emerging Leaders Forum and it was an opportunity for current ECSU students to see what the future might hold for them. At the table was Lasindra Webb, Rachel Haines, The Honorable Eula Reid, and Dr. Otis Smallwood.
Webb, a 2002 ECSU graduate, is currently a Program Manager Associate with the Blue Cross and Blue Shield of North Carolina Foundation.  In her position, which she has held since 2016, she is responsible for the oversight of the grants management process for the Foundation's $7 million annual grant portfolio.
Haines is a 1998 ECSU graduate. She is currently the Director of Business Services at Elizabeth City State University, where she has been employed for seven years.  Prior to ECSU, Rachael worked for over 10 years in manufacturing and small business operation and accounting.
Reid is a 1985 ECSU graduate. In 2006, she was elected as a district court judge and is one of the five district court judges in the Albemarle region hearing cases in the seven counties that make up the First Judicial District.  Judge Reid presides over cases involving juvenile delinquency, misdemeanor criminal cases, family law cases, civil cases and cases involving abused, neglected and dependent children.  She is a Certified Juvenile Judge.
Smallwood is a 1993 ECSU graduate. Currently, he is the assistant superintendent for Jones County Public Schools where he oversees human resources, auxiliary services, testing and accountability/ and IT services. He has held this position for the last five years.
Moderated by the director of alumni relations, Enoch Bond, the panel of ECSU alums were asked a series of questions about life as a Viking, and what advice they would offer students today.
Bond asked each of the panelists to talk about their academic experience at ECSU.
"I knew I wanted to be a teacher," said Smallwood. "A lot of professors took me under their wings."
Judge Eula Reid described herself as the rebel of her family. She wanted to leave home and attend UNC Chapel Hill, which she did for her freshman year.
But she returned home and enrolled at ECSU, along with her sisters.
"I felt that home feeling where people really cared about me," said Reid of her academic experience.
Learning is more than academic life. There are plenty of lessons to be learned outside of the classroom and Bond asked the panelists to share their experiences.
Webb remarked that she was involved in a number of campus activities and organizations. That involvement made a big difference in her university experience. The experiences on campus, Webb said, gave her skills useful in the working world.
"I urge you to make the best of your time here and get involved," said Webb.
For Haines, the experience of internships taught her something about networking and making contacts that lead to opportunity.
"Take advantage of internships, they lead places," said Haines.
Likewise, Reid's experience as a work-study student and holding a job off campus gave her the opportunities to network. Her first job after graduation was with a law firm where now ECSU Board of Trustees chair, and former ECSU professor, Harold Barnes was a partner.
Reid began there as a secretary, became a paralegal, and then went on to law school.
"You never know what contacts you will make," she said.
Bond then asked panelists to talk about the things they love about ECSU.
"Small classes," said Haines. "My professors knew who I was and my classmates, and I knew who they were."
Webb pointed to the lifelong friendships as a result of her time at ECSU.
"There's a community vibe here, so the best part is the people," she said.
Smallwood and Reid commented that the intimate environment and the people make a difference at ECSU.
"I like being a part of a family," said Reid of being an ECSU Viking.
---