Emergency Management Program Provides Hands-on Learning Experience
---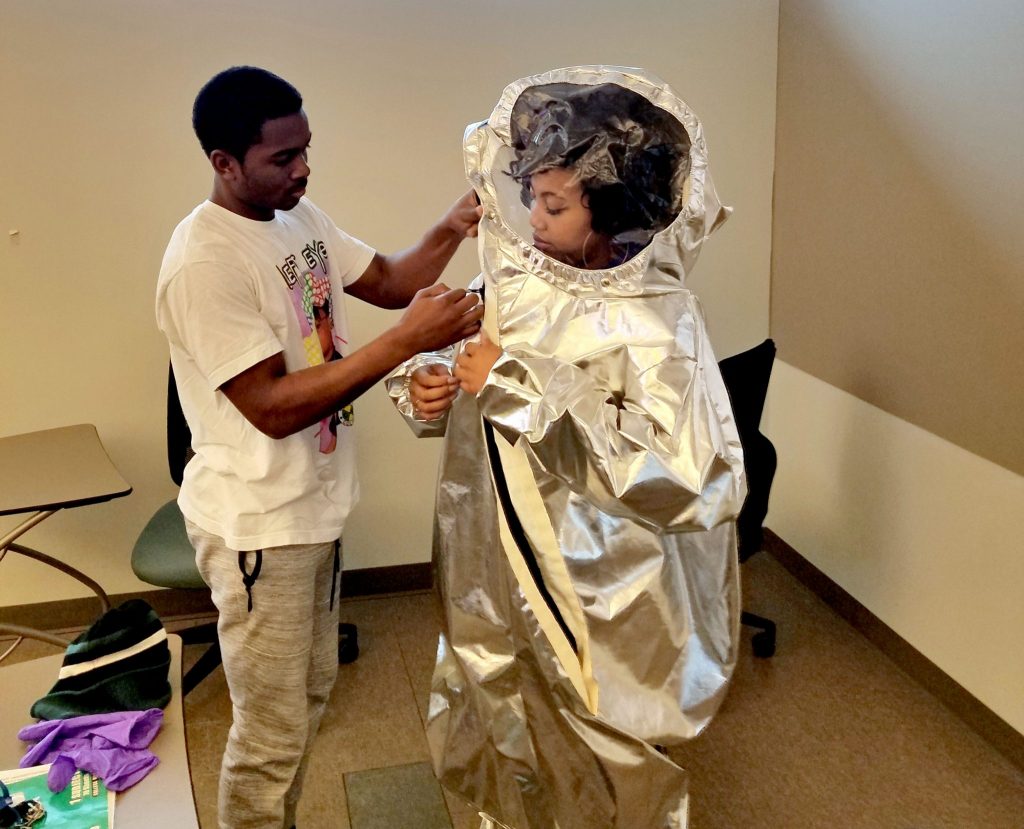 ECSU Emergency Management degree students learn to don and use a hazardous materials suit. A part of the philosophy of the Emergency Management degree program is to prepare students with hands-on experience.
By Kevin Kupietz
Students in the Elizabeth City State University Emergency Management program are constantly challenged with every day events they see in the news. Their challenge as students is to come up with solutions for the real world.
Along with critical thinking skills the Emergency Management students are given the opportunity to see, touch, and utilize many of the supplies and equipment's that they will see in the response world, or that they will oversee other people utilizing in the mitigation, preparedness, response, and recovery phases of emergency management
Students consider what they learn at universities to be purely academic, with little to no relationship to the real-world job that they're aiming for after graduation. In reality the knowledge gained through university education should mirror and enhance the training and skills needed for the graduate once they enter the workforce. Elizabeth City State University's emergency management program strives to do just that.
For example, EM 315 weapons of mass destruction class participates in Hands-on Friday. Hands-on Friday is a day where they get to see and utilize equipment that would be used in the field.
One week the students were able to see the personal protective equipment that hazardous material technicians would wear when trying to deal with toxic substances. The students learned that there is no one chemical suit that will protect the responder from every available chemical.
They experienced firsthand the difficulties of donning and doffing chemical suits and how it takes more than the person wearing the suit to prepare for an operation. The students were able to help each other get into the suits and try to perform simple tasks.
It's important for the Emergency Management student to understand that with increasing layers of personal protective equipment tasks become harder and take longer periods of time to complete, and may result in poor performance due to the layers of material between the responder and the work. They also learn and experience the heat buildup inside the suit, the low visibility provided by looking through layers of protection, and other restrictions while wearing these suits.
This information will allow the student to better understand what is needed for what may otherwise seem like a simple cleanup of a hazardous material spill.
In a different hands-on Friday student were able to work with radiological equipment in the classroom. With this equipment they were able to pull air samples and test the air quality of the classroom with the radiological monitors to determine what the actual radioactivity level was in the classroom.
They were then given a working problem to test the air in different areas to discover a higher area of concentration and what they would do for public safety. They were able to talk about and establish work zones transition zones and safe areas commonly referred to in Emergency Management as hot and cold zones. With the zones established they were able to work on problems on how to move personnel and equipment from one zone to the next with safety in mind.
The world of Emergency Management is very diverse, full of different activities and plenty of challenges. The Emergency Management practitioner is never bored with all the different avenues and changes for them to examine and overcome. If you like challenges, if you like helping people, if you want to see your community be a better place, think about an education in the realm of emergency management.
For more information on ECSU'S Emergency Management Program Follow our Facebook page at https://www.facebook.com/ECSUEmergencyManagement/
Kevin Kupietz is an assistant professor of Emergency Management at ECSU. He is also a member of a national disaster response team, and trained paramedic.
---