Elizabeth City State University Wins 2nd Place in Community Change Collegiate Challenge
Posted On November 13, 2019
---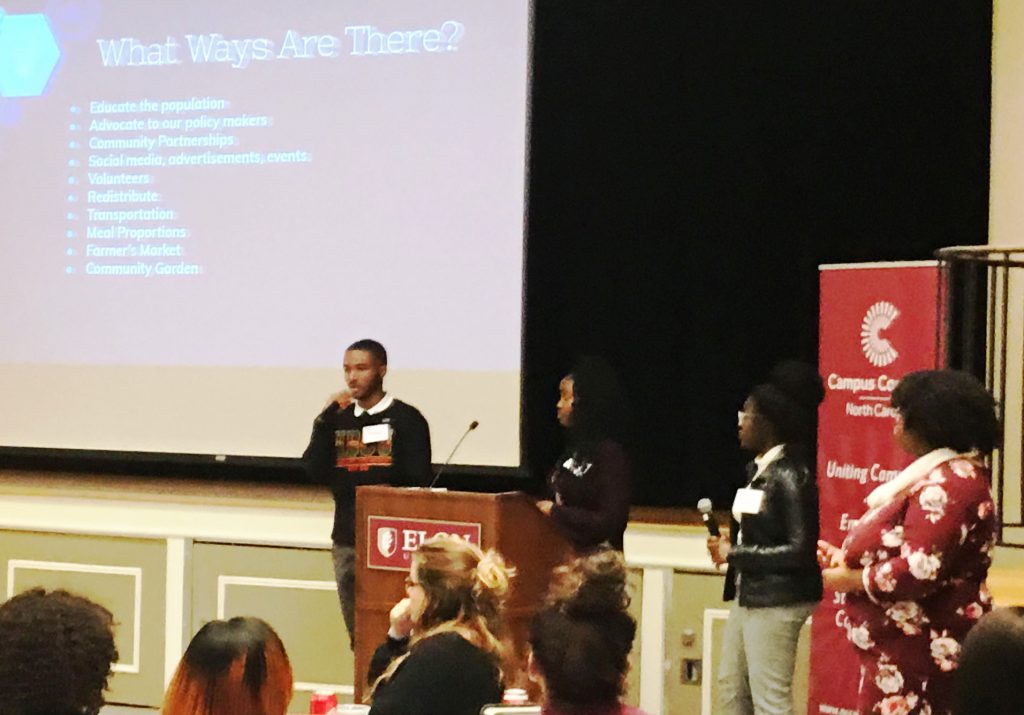 ECSU students, left to right, Nomar Proctor, Caya Carter, Tiyana Boyce, and Rachel Roundtree give their presentation during the Community Change Collegiate Challenge at Elon University on Nov. 9. The team took home second place out of 16 competing universities.
Elizabeth City State University Honors Program students took home second place on Nov. 9 at the first Community Change Collegiate Challenge, also known as 4C. Competing against 15 other North Carolina universities, ECSU students, according to team captain Nomar Proctor, developed a plan to address hunger issues in the region.
"It was about food accessibility in the community," said Mr. Proctor, an aviation science sophomore from Prince George County, Maryland. "It's about redistributing food in the community so everyone can eat."
Hosted by North Carolina Campus Compact, and held on the campus of Elon University, the event was a "daylong immersive experience in deliberate democracy." The students were challenged to create a plan that addresses food insecurity in their communities.
Mr. Proctor says university teams were briefed and then sent out to formulate a plan. They looked at the dynamics of the community surrounding ECSU and devised a plan that would assist those people who cope with food insecurity on a daily basis.
Using the "Land of Plenty: How should we ensure that people have the food they need? Issue Guide" from the National Issues Forum, student teams spent two hours discussing the issues surrounding hunger and exploring various ideas aimed at addressing food Insecurity.
After preparing their presentations, the 16 university teams made presentations to a panel of judges. The judges selected four teams to compete in a final round of presentations.
One of the issues Mr. Proctor and his team addressed is that of personal pride. People, he said, tend to let their pride get in the way of receiving assistance, and the team wants to find ways to stem that issue.
"Let them know that there is hope," he said.
The team took second place after North Carolina A&T and received a $1,000 award. They were the only two HBCUs attending the event, and Mr. Proctor says they're very excited about their accomplishments.
Mr. Proctor says the team will continue its work addressing food insecurity in the region. They want to partner with Food Bank of the Albemarle, Food Lion and its hunger relief program, and also look to area restaurants for aid – a key component in their winning competition plan.
"There are plenty of restaurants and even our own cafeteria that have leftover food that hasn't been served," he said. "That food could be redistributed throughout the community to those who are hungry."
Dr. Lindsey Haynes-Maslow, assistant professor and extension specialist in the Department of Agricultural and Human Sciences at North Carolina State University delivered a keynote address on "Hunger in North Carolina: Who is Most at Risk?" Dr. Danielle Lake, director of the Center for Design Thinking at Elon University provided an overview of the design thinking model.
Aside from Mr. Proctor, ECSU's team consisted of Caya Carter, Rachel Roundtree, and Tiyana Boyce. Russ Haddad, ECSU's director of community and economic engagement, accompanied the students and mentored them throughout the competition process.
---