Elizabeth City State University Continues to be a Top Performer in U.S. News and World Report National University Rankings
Posted On September 13, 2021
---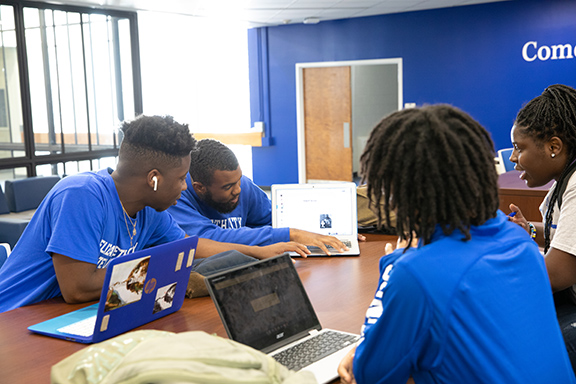 Elizabeth City State University continues to be a top performer in the annual U.S. News and World Report university rankings. According to the publication, ECSU has been ranked fourth for Top Public Schools in the Regional South, 10thfor Top Performers in Social Mobility in the Regional South, 22nd in the nation for Top HBCU, and 33rd for Best Regional College South.
According to the publication, Top Public Schools are those universities that "operate under the supervision of state governments and are funded, in part, by tax dollars and subsidies from the state. As a result, these universities often offer discounted tuition to residents of their states."
ECSU is an NC Promise School, offering in-state students $500 tuition per semester and out-of-state-students $2,500 tuition per semester.
"ECSU continues the hard work necessary to be a top school. We have been working intentionally to raise the profile of this great university and while this ranking shows that our efforts are being noticed, our faculty and staff continue to strive for excellences at ECSU," said Chancellor Karrie G. Dixon.
According to U.S. News and World Report, Top Performers on Social Mobility rankings are given to schools that put a focus on economically disadvantaged students, "by enrolling and graduating large portions of disadvantaged students awarded with Pell Grants." The 2021 Best Colleges rankings mark the third year the magazine has included social mobility in its methodology. Social mobility considers graduation rates for students who received federal Pell Grants, financial aid that is typically reserved for those with annual household family incomes below $50,000.
For the Best Regional Colleges South ranking, U.S. News and World Report looks at schools, "according to their performance across a set of widely accepted indicators of excellence." The magazine considers 15 areas when ranking schools for academic excellence, placing a large emphasis on a school's ability to retain and graduate its students.
Other factors include class size, undergraduate academic reputation and how much a school spends per student on instruction and other related expenses.
ECSU continues to receive high rankings from national organizations such as the recent Washington Monthly top 20 for bachelor's degree colleges nationwide or the Military Times Best Bet for Vets.
Elizabeth City State University is a UNC System constituent university in Northeastern North Carolina. ECSU offers 28 bachelor's degrees and four master's degree and is the only four-year university offering a bachelor's degree in aviation science and unmanned aerial systems, or drones.
---