Elizabeth City State University Announces Launch of 3rd Annual ECSU Day of Giving Campaign
---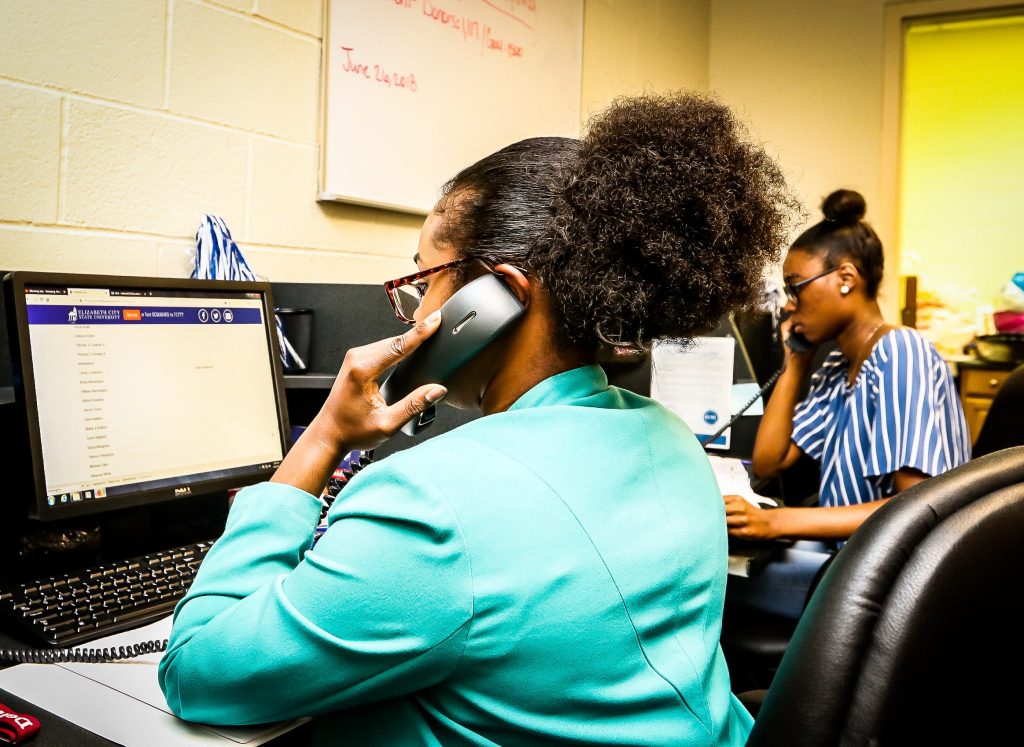 Students call prospective donors during the ECSU Day of Giving. The 3rd annual Day of Giving launched April 1 and runs through May 31.
Elizabeth City State University will host the 3rd annual ECSU Day of Giving on Friday, May 31, 2019. The goal this year is to raise $200,000 from more than 1,891 donors in commemoration of the university's founding year of 1891.
Proceeds will benefit student scholarships, academic programs, faculty research, and much more. Donors can make gifts toward the giving day efforts now through May 31 by going to www.ecsu.edu/ecsugives.
"The ECSU Day of Giving is a wonderful opportunity for ECSU stakeholders to invest in our great university," said ECSU Chancellor Karrie G. Dixon.  "I am inviting students, alumni, employees, community and regional stakeholders, and Viking supporters everywhere to join us on May 31 for One Day, One Goal, One ECSU.  We will appreciate every gift. Together, we can make a difference. "
ECSU boasts a highly-qualified and dedicated faculty and staff, who take pride in inspiring and preparing students to become tomorrow's leaders and to make an impact in the northeastern North Carolina region.
"The work to pave the path for a bright future for Northeastern North Carolina includes success for ECSU," said Vice Chancellor for University Advancement, Dr. John Michael Lee, Jr. "When ECSU succeeds, the community succeeds."
For 128 years, Elizabeth City State University has served as a premier institution, offering a wide variety of academic programs and services, and providing a nurturing campus environment that supports today's diverse student. ECSU Foundation Board Chair, Dr. Jeanette H. Evans, encourages all to invest in ECSU's future by making a gift during the ECSU Day of Giving.
"Every gift counts," she said, "and every gift will have a powerful impact on the success of our students and the citizens served by our great university."
During the ECSU Day of Giving, donors can engage in several challenges to build camaraderie and generate excitement: Decade/Class Year Challenge, ECSU Department Challenge, Greek-Letter Organization Challenge, Student Challenge, IGTAM (I Give Ten A Month) Challenge, and the Community Challenge.
Proceeds from the ECSU Day of Giving 2019 will support a wide variety of initiatives that include general scholarships, faculty research, academic programs such as aviation and education, athletics, public radio station WRVS-FM 89.9, the Veterans Center, and more. With broad support from alumni and supporters, ECSU is committed to their role as a leading regional community partner for many years to come.
---