Eight Vikings Inducted into International English Honors Society
Posted On November 15, 2017
---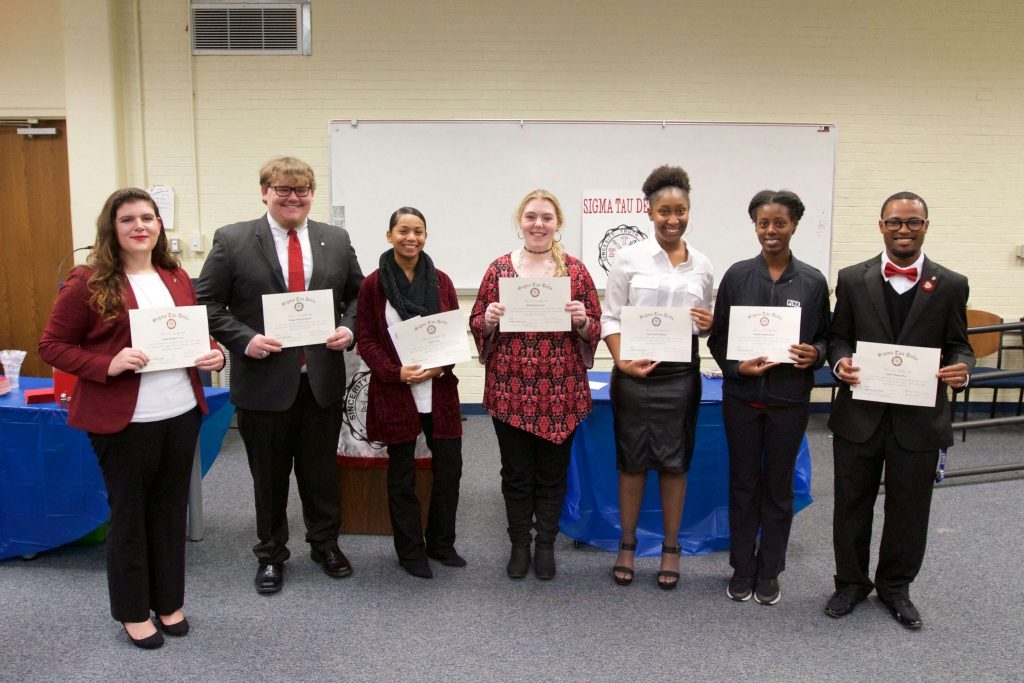 Students inducted into the English Honors Society are, left to right, Rachel Lowe, Zachary Singletary, Jocelyn Lewis, Brittany Peden, Alexis Stephens, Shanika Burrus, and Juston Blue. Not pictured: Lauren Miles.
Eight Elizabeth City State University students have been inducted into the Sigma Tau Delta International English Honor Society.
During a ceremony on Tuesday, Nov. 14, Juston Blue, Shanika Burrus, Jocelyn Lewis, Rachel Lowe, Lauren Miles, Brittany Peden, Zachary Singletary, and Alexis Stephens were officially inducted into the society. Prof. Jenna Miller welcomed the students, faculty, and staff while Dr. Kenneth E. Jones, Language, Literature and Communications chair and director of the ECSU Honors Program, was the keynote speaker.
The honors students were chosen for their distinction for high achievement in English language, literature and writing. The purpose of the society is to recognize the accomplishments of these outstanding students.
In addition to the address by Dr. Jones, students were inducted into the society and asked to repeat the Sigma Tau Delta pledge:
"I shall endeavor to advance the study of chief literary masterpieces, to encourage worthwhile reading, to promote the mastery of written expression, and to foster a spirit of fellowship among those who specialize in the study of the English language and of literature, ever keeping in mind our international motto: Sincerity, Truth, Design."
The ceremony was followed by a reception.
---