Nine ECSU Graduates Named Area Teachers of the Year
---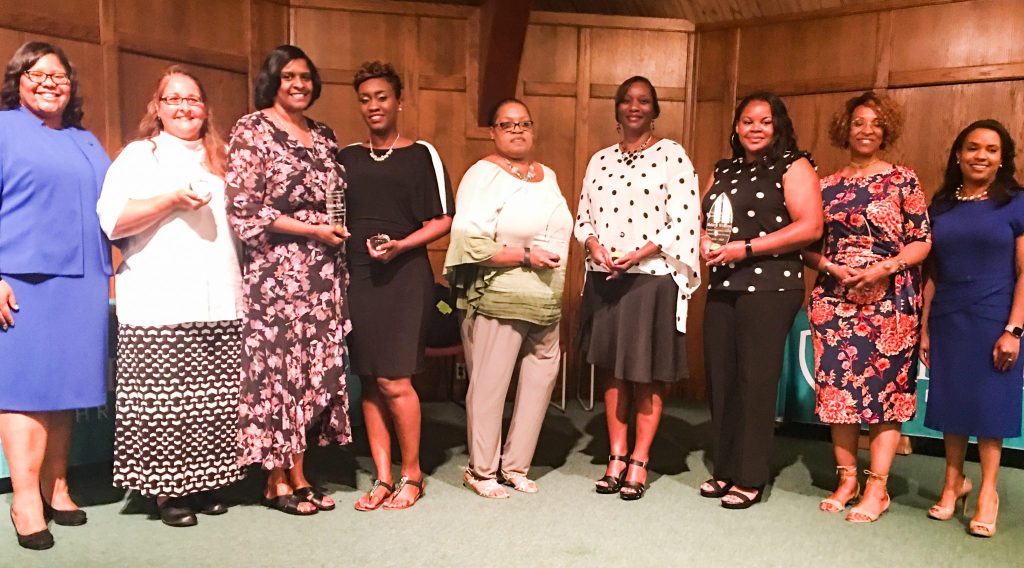 ECSU was well represented at this year's Elizabeth City Area Chamber of Commerce Teacher of the Year ceremony. Nine area teachers who were honored are ECSU graduates. In addition, ECSU's UNC System Excellence in Teaching honoree, Dr. Kingsley Nwala, was recognized.

Each year the Elizabeth City Area Chamber of Commerce recognizes the area's Teachers of the Year, including the UNC System Excellence in Teaching recipient from Elizabeth City State University. However, there is also a distinguished list of educators each year who all have their roots in ECSU as graduates of the education program.
This year, according to the Department of Education chairperson, Dr. Sheila Williams, nine Teachers of the Year recognized at the event held Wednesday, May 1, at Mid-Atlantic Christian University, are all ECSU graduates. In addition to these nine teachers, ECSU's Dr. Kingsley Nwala was recognized as ECSU's UNC System Excellence in Teaching honoree.
The nine ECSU graduates recognized at this year's Teacher of the Year event are:
Carly Meads, Grandy Primary
Heather Jones – Camden Intermediate
Melanie Whidbee, Central EC
Tameka Jackson – EC Middle
Chandra Eley – P.W. Moore
Elisa Griffin – River Road
Candy Simmons – New Life Academy
Shala Spence – NEAAAT
Katrina Sutton – Pasquotank Elementary School
ECSU offers degrees in Birth-to-Kindergarten, Elementary Education, Special Education and minors in English, History, Mathematics and Comprehensive Science. Graduate degrees in Biology, Elementary Education, School Administration, and Mathematics are also available.

In addition, as of last January, ECSU is offering its first online Master of Education degree program. The 100 percent online program offers two concentrations, one for teacher leaders, and another for initial certification.
ECSU has also signed articulation agreements with a number of North Carolina community colleges. These agreements are bringing education transfer students to the university to complete their bachelor's degrees and go on to be teachers.
Each year the list of area Teachers of the Year includes a significant number of ECSU graduates.
---