Education Students Glimpse Future at Education Career Fair
---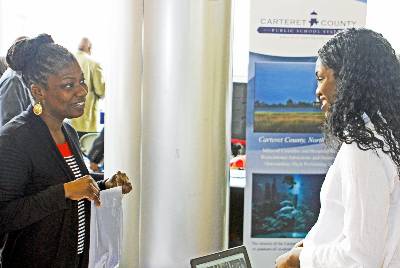 Elizabeth City State University makes great teachers. It's a point of pride that goes back to the founding of the institution in 1891 and something that school districts across the region understand all too well.
That's why when the annual Education Career Fair opened Wednesday March 22 in the Ridley Student Center 21 regional school districts were set up prepared to recruit ECSU students as future teachers.
Markitta Whitehurst-McLean ECSU's director of career development said the regional districts come to the career fair twice a year.
"They're hoping to recruit students" she said.
School districts from Elizabeth City-Pasquotank Public Schools (ECPPS) to Halifax County and more set up tables and greet the ECSU students. Each school district spoke to the prospective teachers in hopes of eventually hiring them once they graduate.
According to the Raleigh News and Observer enrollment in North Carolina public universities by students pursuing a career in education has dropped 30 percent since 2010. Across the state the need for public school teachers is a priority. That means when schools show up to recruit university students for needed teaching positions they're serious.
Whitehurst-McLean says many of the school districts attending the career fair are speaking to the students in hopes of piquing their interest possibly drawing them in for a job down the line. Others however are recruiting students right on the spot.
One district recruiting students at the fair was ECPPS. The local school district's table was staffed by two educators Nava Coppin and Linda Davis. Both teachers are ECSU graduates.
Coppin a teacher at Elizabeth City Middle School said by 11 a.m. they had spoken to 20 students. And those students were given the opportunity to fill out applications at the table.
"We're hoping to hire them all" said Davis who teaches at Northeastern High School.
When ECSU was founded as the State Normal School in 1891 its original mission was to train African-American teachers. Since that time while the university has evolved and more degree opportunities are available future teachers still look to ECSU to launch their careers.
---