ECSU's WRVS 89.9 FM Launches COVID Awareness Web Program 'The Save A Life Series,' Sept. 30
Posted On September 21, 2021
---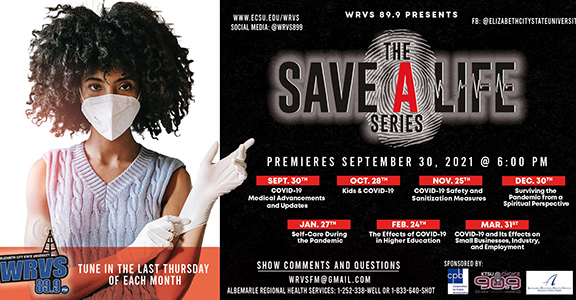 WRVS 89.9 FM is joining forces with other HBCU radio stations and the Corporation for Public Broadcasting (CPB) to present the "Save A Life Campaign," a series of radio broadcasts, public service announcements, outreach events, and what Elizabeth City State University director of radio and television services, Melba Smith, says is an exciting monthly web series-launch that will provide the surrounding communities with much needed information on COVID-19 advancements, vaccines, and testing.
"The campaign targets under-represented communities to spread the word about COVID education and foster wellness during the pandemic," said Ms. Smith. "The radio station currently features programming that encourages vaccinations and testing, and the monthly web series will address many topics associated with COVID-19 including vaccinations, testing, masking, and mental health as well."
The web series is supported by a one-year grant from CPB and is used to produce original, local content focusing on COVID education. WRVS, says Ms. Smith, is producing "The Save A Life Series," which will be featured on the WRVS and university Facebook pages once a month and will include a series of interviews hosted by ECSU's Small Business and Technology Center director, Dr. Wanda Cooper.
"The series is an insightful program that will feature timely conversations and present invaluable education about coronavirus prevention, preparedness, and response," says Dr. Cooper.
The web series will launch on Sept. 30 and run once a month through March 2022. The first episode will focus on COVID-19 medical advancements and updates.
Other topics covered throughout the series will include kids and COVID-19, safety and sanitation measures, self-care and more.
Ms. Smith says the program is also partnering with Albemarle Regional Health Services (ARHS). By working with ARHS, Ms. Smith says, there is more access to subject matter experts, resources, and information.
"ARHS is set up as the point of contact for viewers who have COVID-related questions or are seeking help," she said.
Ms. Smith says the web series not only addresses the need for up-to-date information on COVID-19, it also focuses on the expressed need of the community for more local content and information. Ms. Smith says that community members throughout the Northeastern North Carolina region have expressed a desire to be better informed, and have WRVS provide more local information and content on its radio and social media channels.
She says this show will not only provide interviews with experts about COVID-19 and issues surrounding it, but also create a community connection in the surrounding area. She says the interviews Dr. Cooper conducts will not only take place on the ECSU campus – the first interview will feature the recently renovated G. R. Little Library – but from remote locations throughout the community as well.
By taking the show into the community, Ms. Smith says WRVS expands its reach and is able to highlight locations, people, and institutions that matter to the people of Northeastern North Carolina. She says with the launch of this web series, WRVS will begin to look at other web series opportunities to keep the community better informed about topics that matter to them.
The series will premiere on the WRVS Facebook page, and simulcast on the ECSU Facebook page, Sept 30 at 6 p.m. The first installment will feature interviews with ARHS public information officer, Amy Underhill, and ECSU professor of pharmaceutical science and chair of the Department of Human Studies, Dr. Anthony Emekalam.
The "Save A Life Campaign" series will feature seven monthly episodes:
COVID-19 Medical Advancements and Updates, Sept. 30;
Kids and COVID-19, Oct. 28;
COVID-19 Safety and Sanitation Measures, Nov. 25;
Surviving the Pandemic from a Spiritual Perspective, Dec. 30;
Self-Care During the Pandemic, Jan. 27;
The Effects of COVID-19 in Higher Education, Feb. 24;
COVID-19 and its Effects on Small Businesses, Industry, and Employment, March 31.  
---