ECSU's Upward Bound Program Gives High School Students an Academic Advantage
---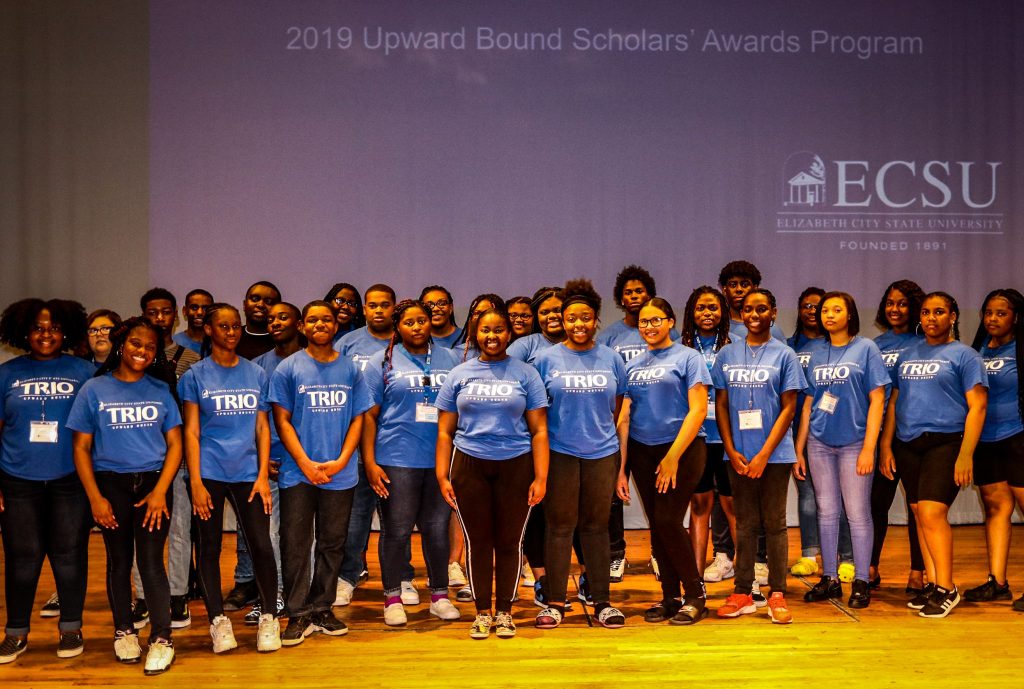 The summer 2019 ECSU Upward Bound students pose for a photo before their awards ceremony last month. High school students from the region attend the program and receive an academic leg-up, preparing them for college.
The Upward Bound program at Elizabeth City State University has been giving young students the academic leg up they need to advance successfully from high school to college. Throughout the year, and through the summer, students have participated in the programs and have found success, like last year's Student Government Association President Chorn Poyner who said his experience with Upward Bound helped him make the decision to enroll at ECSU.
This year, according to the program's coordinator, Dr. Kimberly Stanley, students received tutoring and instruction in English, mathematics, science, and Spanish throughout the academic year. During the summer, students participated in a non-residential and residential program, with an emphasis on science, technology, engineering, and mathematics, or STEM.
The Upward Bound program has been operating on the ECSU campus since the 1970s, according to Dr. Stanley, giving over 10,000 students a chance to learn. Former students, she said, have gone on to earn four-year degrees and excel in a variety of career fields.
Dr. Stanley said during the non-residential summer program, students who participated showed significant gains in their academic skills.
"As a result of intensive instruction, there was an overall 24.3 point gain in reading, and a 24.1point gain in mathematics," she said.
During the summer residential program, students received the standard Upward Bound instruction in English, math, science, and Spanish. However, Dr. Stanley said they also had the opportunity to expand their interests and take classes in theatre arts, dance, computer programming and coding, a science lab, and creative writing.
Upward Bound students also traveled to Atlanta, Georgia to tour college campuses and historic sites. Students also met artist Patrick Morelli, the man who created the 10-foot tall bronze statue of Dr. Martin Luther King, Jr., "Behold."
The residential program concluded with an awards ceremony. Chorn Poyner delivered a motivational speech to the students, encouraging them to, according to Dr. Stanley, "strive for excellence and to work hard."
Students also presented theatrical and dance performances. Two students read original poems they composed during their creative writing class.
The program serves 75 students from Gates, Perquimans, Pasquotank, Washington, Chowan, and Tyrell counties. All of the students, according to Dr. Stanley, are on track to graduate from high school and attend a four-year college or university.
"As a result of the students' participation in the program, 90 percent of the 75 students maintained or obtained a grade point average of 2.5 or higher," she said, adding that 95 percent of the graduating seniors will enroll in a four-year institution in the fall of 2019, including five who will attend ECSU this fall.
Upward Bound operates two sessions, one during the academic year and one during the summer months.
---