ECSU's Top Cop, Chief John Manley, Will Retire his Badge Oct. 1
Posted On September 23, 2021
---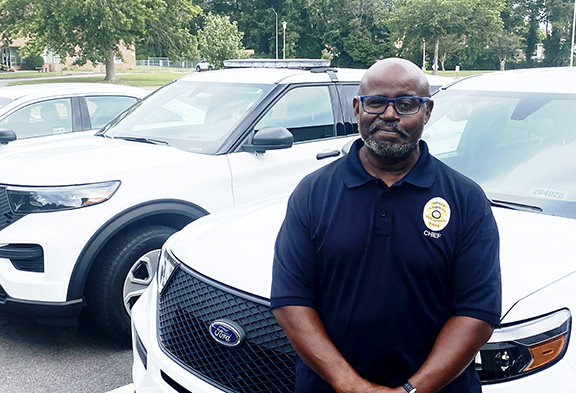 Surrogate dad, mentor, policeman, chief law enforcement officer: These are just some of the ways Elizabeth City State University's top cop, Chief of Campus Police John Manley, might be described. And although Chief Manley will be retired from his post as of Oct. 1, don't think he's going to be settled into a recliner somewhere. He still has plenty to do, even after 41 years in law enforcement. 
Chief, as he's known, came to ECSU in 2013 after a stint as interim police chief for the Elizabeth City Police Department. He was named ECSU's interim chief before taking on the permanent title, and since that time, the veteran peace officer has made a lasting impact on the campus.
"Making a difference. I feel like I've done that," said Chief Manley. "I have connected with so many people over the years."
Making those connections is important to Chief Manley. He says the number one rule is, he's a human being first, and a law enforcement officer second.
"I enjoy meeting people where they are and not being judgmental," he says.
Chief Manley grew up in eastern North Carolina's Halifax County. He was the son of a farmer and while a boy, working in his family's fields, he would see patrol cars drive down the rural roads on a hot day and think that being an officer, in an air-conditioned car, might beat toiling in the fields under the summer sun.
He made his decision to become a peace officer and started his career in Enfield, North Carolina. He would eventually move on to serve on the Rocky Mount police force, where he would become chief and see his first retirement after 27 years there.
Retirement is really just a matter of years, though. It's not a permanent state of mind for Chief Manley, lending itself to quiet days at home. So, he accepted the interim police chief position in Elizabeth City, which led him to ECSU at a time when the campus was looking for a change in law enforcement leadership.
"He's been a great asset to ECSU," says Alyn Goodson, the university's vice chancellor for operations and general counsel. "He came in during a time when the department needed stability and growth. He's managed to achieve both under his leadership and prepared it for success in the future. We will certainly miss Chief Manley."
That preparation for future success will likely be a part of his legacy on campus. While operating a police department on campus shares similarities to community policing, there are many nuances that make a bigger difference when gauging success.
The primary focus of any campus is its students. And while campus police must enforce the law, it's equally important that they make those connections Chief Manley talks about, and serve as sort of surrogate parents, or role models for students.
"On campus, you have to work with so many different groups," he says. "It's for the good of the students. They're away from home and we have to make this home for them as much as you can."
He tells his officers that it's important for them to focus on guiding the students and help them grow as people. He says his officers are encouraged to make connections with students daily, as people, not as law enforcement officials.
"To me, it's no different than what a parent would do for a child," he says.
And Chief Manley will also work with the parents of students, assisting them in shaping their character and keeping them out of trouble.
"I've had parents call me and ask me to take the child's car keys," he said. "And guess what? I do it."
In a world where policing methods are under constant scrutiny, and people are calling out for reform, Chief Manley stands out as someone who might be emulated. His focus on putting people first, and building relationships means he respects them, and they respect him.
"People are people regardless of race or nationality," he says. "We all want great things for ourselves and our families. I look for the good and work from that."
And while Chief Manley will be missed, the work he's done building a foundation for policing on campus will live on, into the future.
"His expertise, focus on campus safety and his ability to connect with members of the ECSU Community have made him an incredible asset to the university," said Chancellor Karrie G. Dixon. "He will be missed by many."
While Chief Manley will be missed in his primary role, he won't be gone forever. He says he's agreed to assist in the search for and transition of ECSU's next police chief. He says his advice for the next top cop on campus is to "be kind to everyone" and be a strong communicator.
"Never let your constituents be in the dark," he says.
Chief will continue to assist with events on campus and continue to nurture those connections he's made over the years. And he'll likely continue to forge new connections because, it's what he does.
"The most important thing today is to be understanding," he says. "You really have to understand the complexities of life around people."
---