ECSU's Sister2Sister Program is a Student Success Story
---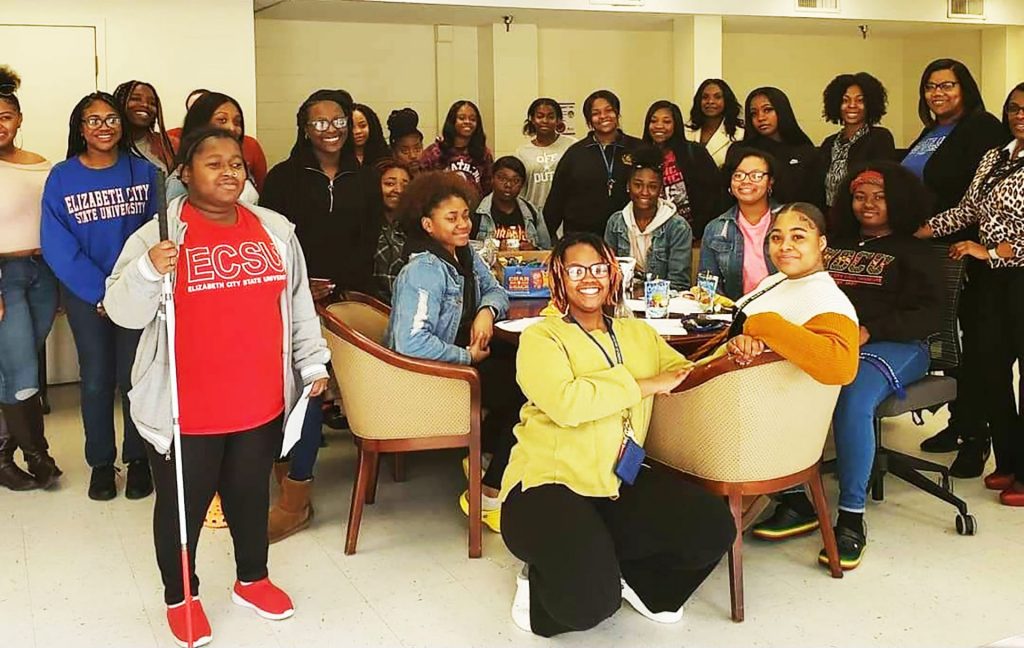 When the Elizabeth City State University male student success program, Champion Scholars, was launched in the fall of 2019, it only made sense that a companion program for young women offer the same opportunity. And so, Sister2Sister was created for first-time freshmen females.
"Sister2Sister was designed to provide first-year female students with the opportunity to build meaningful networks with campus and community members and to achieve their academic, personal and career goals," says Tiffany Hinton, assistant dean of student development. "The mentorship group is co-led by myself and Ms. Sabrina Williams, director of Housing."
The Sister2Sister program began in January 2020 with 32 freshmen. Ms. Hinton says that when the students heard about the male program and the success they were achieving, the young women at ECSU requested a similar program.
After hearing those requests, Ms. Hinton and Ms. Williams decided to develop a "sister's circle that could educate, inspire, and empower the next generation of Viking female students."
"We pulled together a few key campus staff members, within the Division of Student Affairs, Ms. Lucretia Bank, Title IX coordinator, and in student success, Mrs. Rosa Adams and Ms. Maenecia Cole to serve as staff mentors," said Ms. Hinton. "We wanted to create a diverse network of support for these first-year female students. Each of us have expertise in a variety of areas, academic and non-academic, and are affiliated with historically Black Greek Lettered Sororities, imperative to the sister circle we wanted to create."
The group of 32 students met to develop the program along with Ms. Hinton and Ms. Williams, and to establish a purpose and goals.
Ms. Hinton says that following the initial meeting, the group began to meet weekly in University Towers to establish agendas for each week – speakers, goals, and more.
"These discussions centered around the personal, professional and academic development of the Sister2Sister members and included healthy relationships, stress management and time management," said Ms. Hinton.
The goals of Sister2Sister program are similar to the male retention program:
1. Improve ECSU female retention rate;
2. Increase ECSU female graduation rate;
3. Enhance their collegiate experience at ECSU through mentoring, academic enrichment, and leadership development opportunities.
Although ECSU's distance learning protocol during COVID- 19 prohibited the group from meeting in person during the past semester, Ms. Hinton says they all maintained contact online, through virtual platforms such as Zoom. Overall, she says, the students are exhibiting the benefits of the program and are happy about the outcomes.
"Academically, they soared this semester," said Ms. Hinton. "Twenty Sister2Sisters finished spring 2020 with GPAs 3.0 or greater and 11 finished with 2.0-2.99 GPAs. We noticed they averaged higher than their female freshmen peers this past semester. For spring 2020, the Sister2Sister average GPA is 2.97, compared to that of all first-time freshmen females at 2.76."
The success of the program means Sister2Sister will continue its efforts to encourage student success at ECSU. Ms. Hinton says activities planned will include academic and professional development, financial stability, mental and physical wellness, and career development.
The Sister2Sister program members and their majors are:
Tavianna Brown, psychology
Ze'Quirra Sanders, birth-Kindergarten
Trinity Abernathy, undecided
Christalja Bethea, science
Deja Smith, kinesiology
Jalisa Sellars, psychology
Tatyana Hunter, business administration
A'nimah Johnson, biology
Olympia Kelly, biology
Aquila Adams, social work
Jada Dixon, biology
Brieanna Bowers, psychology
Tasheca Carey, pharmaceutical science
Kelsey Waldon, social work
Cymone Alston, social work
Satinika Perrin, psychology
Sha'nyah Moore, social work
Jordan Gundy, accounting
Awa Dieng, undecided
Taryn Moore, birth-Kindergarten
Adama Dieng, biology
Mayha Clay, biology
Carmen Fleming, undecided
Keyona Smith, elementary education
Hope Prince, biology
Nakayla Jiggetts, criminal justice
Jordan Brooks, criminal justice
Destinee Drew, social work
Ke'sharya Fleming, biology
Alaysiah White, biology
Katipha Ndiangang, aviation science
Erin Allen, biology
Tahliah Free, undecided
Felecite Atakpo, digital arts
---