ECSU's search for energy saving measures continues
Posted On August 30, 2010
---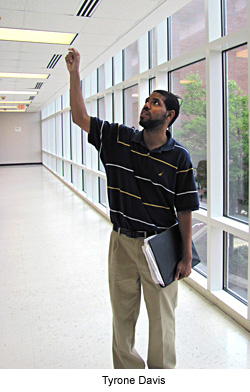 Kesha Williams
August 30, 2010
ECSU welcomes Tyrone Davis, a two-time graduate of N. C. State University and an Environmental Defense Fund (EDF) intern who will assist the university in identifying energy saving measures. Climate Corps – Public Sector brings the energy savings and leadership training of the Climate Corps program to the public sector. EDF embeds trained graduate students in colleges and universities, hospitals, houses of worship, and state and local governments to identify cost-effective energy efficiency improvements. The program was piloted in 2009 with a three-fold objective:
To reduce the public sector's greenhouse gas footprint by helping it invest fully in cost-effective energy efficiency measures.
To facilitate the rapid and widespread adoption of energy efficiency techniques.
To engage and train the next generation of business-minded energy efficiency leaders
Davis is in the midst of a 12-week stay that has led him on evaluations of the K.E. White Graduate and Continuing Education Center, the Mickey L. Burnim Fine Arts Center, Information Technology Center and Bedell Hall. One of his recommendations for the 'Fine Arts Center is to consider using photo sensors that can be hooked to the lights. Those sensors will detect the amount of natural light entering through the building's many large windows and then adjust the output of the light fixtures. Davis says that measure could lead to a significant reduction of energy used to light the building during the hours when sunlight is available.
Davis will prepare a full report for the EDF and university officials. He and other fellows in the program develop detailed business cases for their final recommendations of energy efficiency projects. There are four fellows assigned to public institutions in North Carolina. The end result is a thoroughly-researched set of recommendations and tools to drive next steps.
---