ECSU's One Initiative Program Holds Civic Conversations Series
Posted On September 10, 2019
---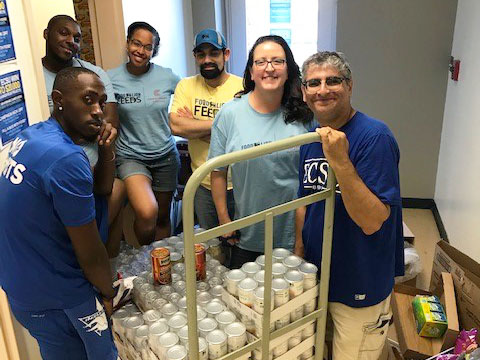 Russ Haddad, far right, is ECSU's director of community relations, seen here with Dr. Jennifer Brown and ECSU students at the Vikings Care Food Pantry on campus. Haddad will host the university's One Initiative Civic Conversations Series starting Sept. 12, focusing on civic engagement both on and off campus.
Elizabeth City State University wants to lead the community in civic engagement, encouraging the sort of conversations that spur action among residents. As part of its One Initiative program, the university is joining forces with the Elizabeth City-Pasquotank County Community Relations Commission to hold the Civic Conversations Series, starting Sept. 12.
One Initiative is a collaboration with the Institute for Emerging Issues at North Carolina State University and its ReConnect NC program. The aim of the program is to spark civic engagement across the state.
ECSU's One Initiative is part of that statewide effort to engage North Carolina residents in their communities as a force for positive change, says Russ Haddad, ECSU's director of community relations.
"The Civic Conversation Series will give ECSU and Elizabeth City community members a chance to explore topics relating to civic engagement," said Haddad. "During the first forum on Sept. 12, we will kick off the series by talking about civic engagement and what it means to the community."
The first forum in the series happens Sept. 12, 5:30 p.m. in the Pasquotank County Library Community Room. The following two session will also take place in the community room, one on Oct. 22 and another on Nov. 7.
During the first session, Haddad says attendees will look at civic engagement and why "opting in" is important. They will discuss what civic engagement means and how it can lead to the creation of more and higher paying jobs, strengthening the role of higher education in the community, developing a pipeline of talented workforce for area employers, and more.
Haddad says ECSU wants to connect the community and bring about future growth in the region.
"Encouraging civic engagement encourages a strong future for the region," he said.
On campus, ECSU has been encouraging civic engagement among its students. Students have worked out in the community through the Food Bank of the Albemarle, mentoring in area public schools, holding school supply drives, and more.
"We're all in this together," said Haddad. "Whether you are an ECSU student, or a lifelong Elizabeth City resident, we owe it to ourselves to work together for the sake of the community's and the university's future."
---