ECSU's Lawrence Brown Joins Attorney General's Council on Collegiate Opioid Misuse
Posted On December 3, 2018
---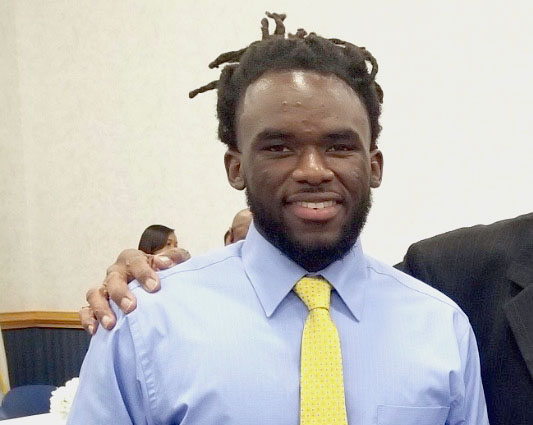 Elizabeth City State University student Lawrence Brown Jr. has been appointed to North Carolina Attorney General Josh Stein's Council on Collegiate Opioid Misuse. Brown represented ECSU on Nov. 9 at the Council's inaugural meeting for the 2018-2019 school year.
Attorney General Stein created the Council, comprised of students from colleges and universities across the state, to confront the opioid crisis on college campuses. November's meeting included remarks from Stein, Addiction Professionals of North Carolina Executive Director Donald McDonald, and families impacted by the opioid crisis.
Brown, a Miami, Florida native, will be working to raise awareness of the Good Samaritan Laws in North Carolina, which provide limited protections for people who call 911 for someone else experiencing a drug or alcohol overdose.
"The best way to make the Good Samaritan Law effective is to get the word out in every way possible," Brown said.
Brown is a pharmaceutical science and criminal justice major at ECSU. He is also a member of the Honors Program and the Criminal Justice Club.
The Council, which includes students active in student government, campus athletics, Greek life, public health and social work studies, and college recovery programs, will meet several times this school year to discuss strategies for addressing substance misuse at their schools. The Council will work to implement recommendations developed by last year's Council to combat the opioid crisis at the college level.
"The opioid epidemic is the biggest public health crisis we face today, and we need these talented, smart students to help us address substance misuse on campuses," said Attorney General Josh Stein in a statement. "I look forward to seeing the results of the initiatives these students are working on, and I'm grateful to them for joining the fight."
---