ECSU's Kuldeep Rawat develops remote laboratory capability for online technology course
---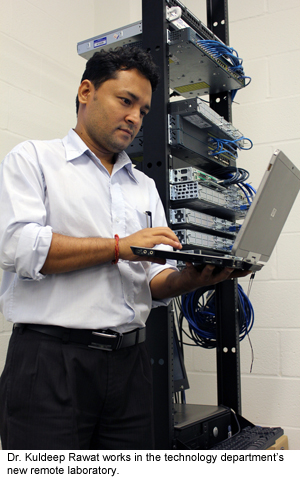 Kesha Williams
July 12, 2011
When students return to Dr. Kuldeep Rawat's classes at Elizabeth City State University in fall 2011, they will find a newly developed remote laboratory.
Last August, Rawat, an associate professor in the Technology Department, the Thurgood Marshall College Fund/Dept of Energy Technology Award for Faculty Innovations grant. It provided a $60,000 grant to develop infrastructure that will allow students to conduct laboratory exercises via the Internet. With the new remote laboratory, students can conduct their class exercises even if circumstances such as the weather or other emergency situations won't allow them to attend the laboratory in person. The new laboratory also will enhance online course offerings.
The purpose of this remote lab is to enable students to complement their theoretical learning with practical experimentation in networking devices which can be carried out simultaneously with theoretical classes and from any place with Internet access.
Rawat said that the remote lab enhances the Technology Department's ability to offer at least six courses in the area of computer networking/Information Technology programs fully online. Features, such as a built-in, chat client, allow students and instructors to communicate. Using the scheduler/reservation interface, students and instructors can view the laboratory equipment pods and the timeslots available to schedule lab time at their convenience. In addition, instructors will be able to capture all lab activities that later can be analyzed and reviewed.
Unlike laboratory solutions based on mainly software emulation and simulation, the students interact remotely with commercial network devices, such as switches, routers and firewalls at the workplace. The remote lab eliminates the expense of installing new laboratories on all the buildings where lectures are held and also having to move students to laboratories that are not located near their classrooms.
Rawat is pleased to welcome the students to the new laboratory.
&quotThe remote networking lab will serve as an aid to support teaching in our computer networking and IT courses offered in Engineering Technology and Industrial Technology programs,&quot Rawat said. &quotPerformance tests have been conducted on remote lab experimentation and students will have access to the facility beginning fall 2011.&quot
The remote laboratory capability in the department also presents the following advantages:
It reduces the costs of ownership and increases system utilization as lab resources can be shared by numerous instructors and students simultaneously.
It increases the availability of the laboratory as the students can access the lab simultaneously with the lecture, anytime and from anywhere.
It increases the geographic reach of ECSU's program.
It can be used as a lecture tool or as a team collaboration tool for self study.
---