ECSU's Jake Norris Awarded Wilkes Flight Initiative
---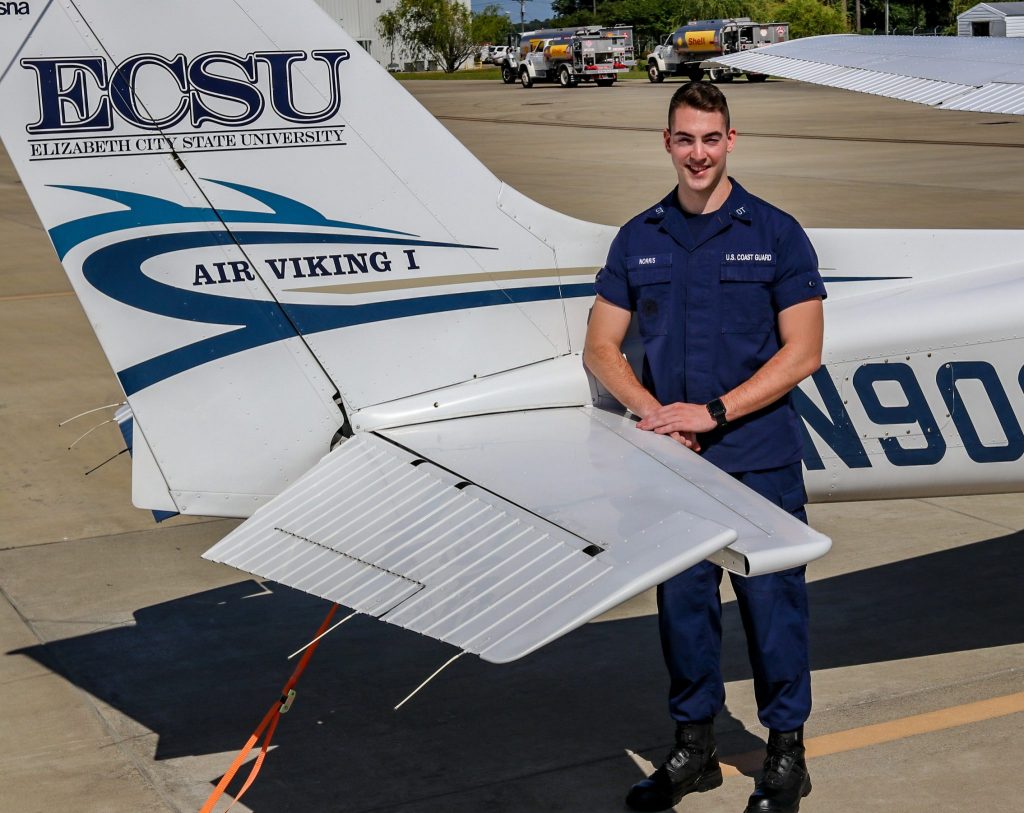 Jake Norris sits confidently inside the Elizabeth City Regional Airport lobby, dressed in his "true blue" Coast Guard uniform. The Elizabeth City State University aviation program student is about to graduate and move on to fulfill one of his many goals, becoming a pilot for the U.S. Coast Guard.
Norris is one of two Wilkes Flight Initiative awardees this year, a designation that, after he completes Officer Candidate School, will fast track him to flight school in Pensacola, Florida. He's the third ECSU graduate to receive this national honor and become a Coast Guard pilot.
For Coast Guard members wanting to become pilots, the Wilkes Flight Initiative is a big step toward that goal. Many officers, Norris explained, might wait two years to be accepted into flight school, but with this award, he's guaranteed a spot almost immediately.
"I cannot see myself doing anything else," Norris said of becoming a Coast Guard pilot.
Norris grew up in a Coast Guard family. His grandfather was a senior chief, his father and brothers are both warrant officers.
The family moved to nearby Currituck County 15 years ago, and since that time, Norris says he's been on track to become a Coast Guard pilot. He set up goals for himself, including receiving an aviation degree from ECSU, and as he's accomplished each goal, he gets closer and closer to his dream of piloting a C-130, fixed-wing aircraft.
Norris says he began plotting this path when he was in middle school. He says he knew each step he was going to take to arrive at his ultimate goal.
"This (the Wilkes Flight Initiative) was always a planned out event," Norris said.
Norris's plans began when he decided he would enroll at Currituck's J.P. Knapp Early College. He knew the curriculum there would help propel him closer toward his ultimate goal.
He then chose ECSU because of its aviation program, and the opportunity to apply for the College Student Pre-Commissioning Initiative, or CSPI program. This program gives rising college juniors an opportunity to join the Coast Guard, become an enlisted service member by attending boot camp, and then working full time as a student.
Norris's tuition is paid by the Coast Guard, and he receives a stipend while attending school. His rank is currently E3, and his title is Officer Trainee.
"Your job is to go to school and be proficient but you're also required four hours of service a month," Norris said.
His job as a student has guided him through ECSU's signature aviation program. The only four-year aviation program in North Carolina, Norris says it's been a great experience for him.
"My ECSU experience has been awesome," said Norris. "I have a lot of great mentors. There are a lot of retired military like Robin Mangham. She is a retired senior chief (Navy). Or Orestes Gooden, a retired Navy aviator. And Elton Stone, he's retired from the Navy. All of them have given me great advice and prepared me on an entry level, broad aspect of the aviation industry."
Norris will also finish his university work with a pilot's license. While many of ECSU's aviation students graduate with commercial pilot license, Norris only needs his private license since he will move onto military flight training.
Norris is one of a number of ECSU graduates who will go on to serve in the military, and one of a number of graduates who will become Coast Guard aviators. He says if that's your goal, come to ECSU "determined and keep your goal in sight."
---