ECSU's Hobbs Named CIAA Rookie of the Year
Posted On February 27, 2018
---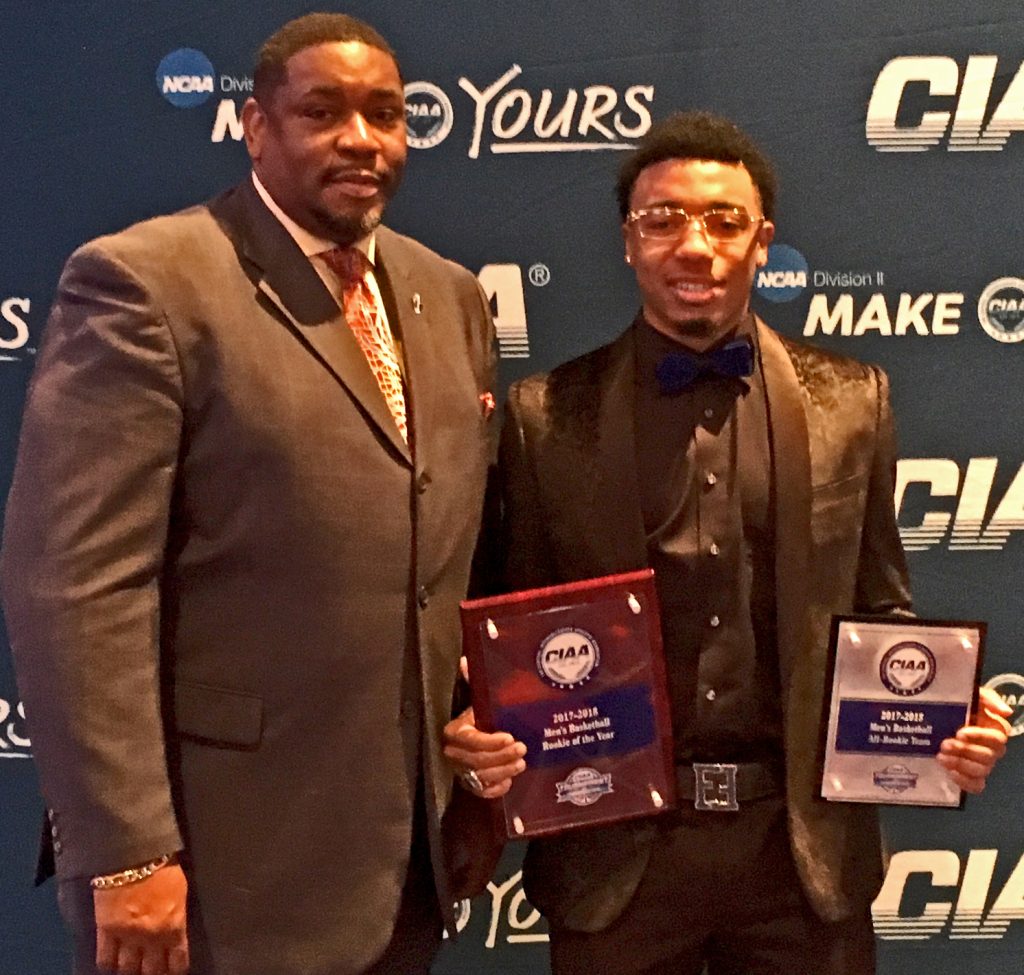 Elizabeth City State University Vikings Basketball Coach John Hill, left, stands with freshman Zaccheus Hobbs Monday, Feb. 26, as he accepts the 2018 CIAA Rookie of the Year award in Charlotte.
CHARLOTTE – The Central Intercollegiate Athletic Association named Elizabeth City State University's Zaccheus Hobbs the 2018 Rookie of the Year, and to the ALL-CIAA Rookie team.
"Man, I thought that it was huge for the young man," said head coach John Hill about the Maysville, North Carolina native. "He worked so hard throughout the season and it's really important that the young gentlemen can receive the fruits of their labor.
"I just thought being a young person not knowing much about the conference and not really knowing what he was up against, I thought that he adjusted well to the system down the stretch. We're excited for him and he's one of the cornerstones and building blocks of our program as we move forward."
Throughout the season, the former Northside High School standout ended the regular season ranked eighth in three pointers made (33), fifth in assists to turnover ratio (2.7), ninth in assists (51) and steals (19), and 10th in points made overall in the conference.
Hobbs also finished 15th (12.9) points per game in the conference. The 6-foot, 175-pound point guard freshman was named the CIAA Rookie of the Week three times during the season, collected a team-high nine assists twice, and tallied a season-high 23 points against Bowie State in early February. He made a team-high five three pointers twice in contests against Fayetteville State University and BSU.
Elizabeth City State University is set to face Livingstone College Wednesday at 10 a.m. during the first round of the 2018 CIAA basketball tourney at Bojangles Arena.
Follow Elizabeth City State Athletics via its official website at: www.ecsuvikings.com to get pre and post-game stories and updates. Like us on Facebook at: ECSUVikings Athletics and follow us on twitter at: @ECSUVikings
---