ECSU's High School Media Day Brings 11 Teams to Campus
---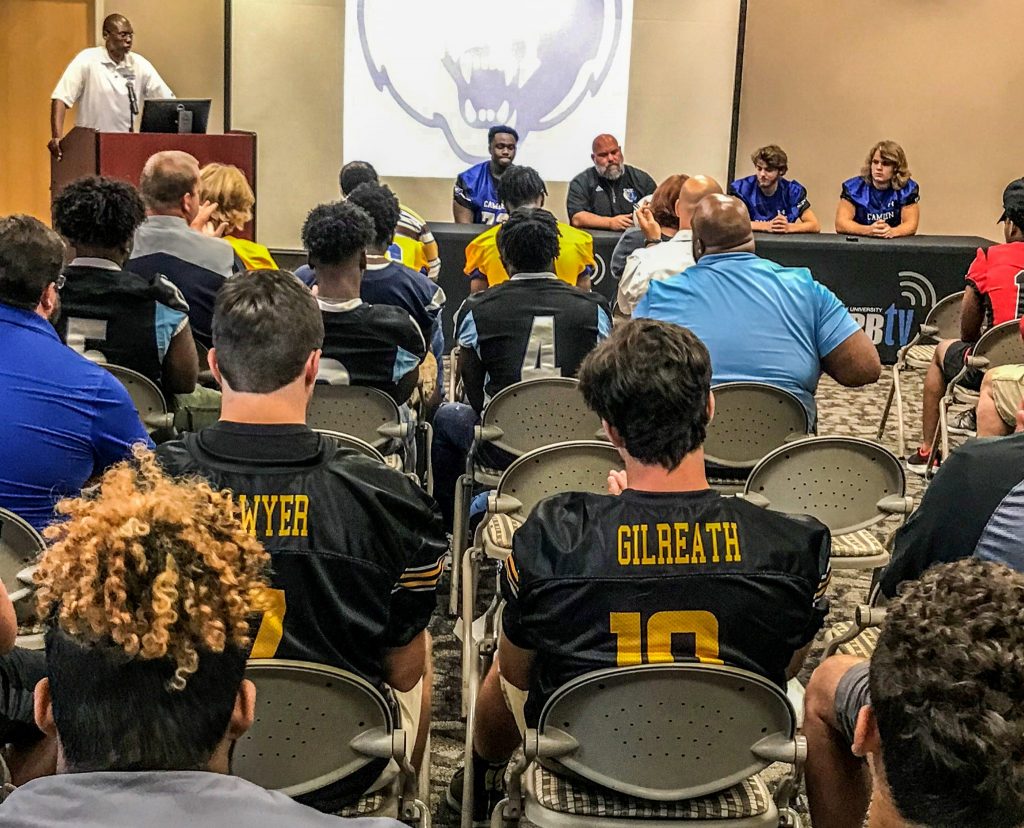 Eleven regional high school football teams showed up for the fifth annual WRVS 89.9 FM NENC High School Football Media Day. The event was held in the all-purpose room at the Ridley Student Center Friday, July 26.
As August approaches, whether it's professional, college, or high school football, fans are getting ready for the season. That's why Elizabeth City State University's WRVS 89.9 FM brought together 11 regional high school football teams for its fifth annual NENC High School Football Media Day on Friday, July 26.
The all-purpose room on the second floor of the Ridley Student Center was standing room only Friday morning. High school players, coaches, ECSU staff and faculty, and members of the media from as far away as Rocky Mount gathered to get a look at this year's prep players and hear about the coming season.
According to station director Melba Smith, the event is a way for ECSU and WRVS to give back to the community and get people excited about a new season of prep sports.
Moderated by WRVS program director Clay Mercer, the morning media event started with a talk from Viking head football coach Anthony Jones. Jones is entering his second season as the Viking's head coach.
"We are in the process of building a championship culture," said the former Super Bowl champion. "We are very excited about the 2019 season."
Coach Jones outlined his philosophy to the high school players, encouraging them to do their part as team members. He said he encourages competition, but also cooperation.
Each team member has a role to play, he said. He offered the high school students words of advice he gives to his players.
"Number one is enjoy the ride," said Coach Jones. "Enjoy the journey."
Student athletes come to him, he said, and tell him that they "just want to win."
"But the question is, how much effort, sacrifice, and commitment are you willing to make," he said.
Coach Jones encouraged players to take the journey that unfolds during the season, and not to "jump to the championship."
The second piece of advice Coach Jones shared with the student athletes is all about leadership.
"We all should be leaders," he said.
Coach Jones said that the fact that these students were chosen to attend the Media Day event means they are some of the best their schools have to offer. That fact, he said, puts them in a leadership role.
But that doesn't mean that each person has a responsibility to lead from the top down. Rather, each player has a role on the team to play, and executing that role to the best of his ability is leading by example.
"As we are being leaders, we are helping be the best we can be," said Coach Jones. "We learn what our limitations are. We respect those limitations."
And by learning about our limitations, he said, we learn what we can best contribute to the team.
After Coach Jones, representatives from each team and their coaches sat for questions from the media. Each coach was able to discuss the upcoming season.
Teams from Northeastern North Carolina attending the event were the John A. Holmes Aces, Northeastern Eagles, Pasquotank Panthers, Camden County Bruins, Perquimans County Pirates, Currituck County Knights, Manteo Redskins, Washington County Panthers, Gates County Red Barons, Bertie County Falcons, and the Hertford County Bears.
---