ECSU's First Jazz Festival Honors Legendary Drummer Max Roach
---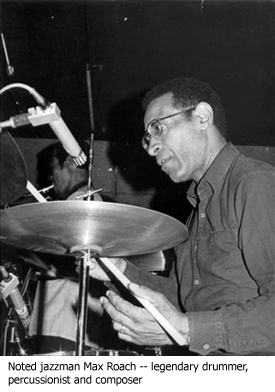 Bonnie Winston
March 28, 2011
The legacy of noted jazzman Max Roach will come alive at the Elizabeth City State University Jazz Festival, a two-day celebration of jazz honoring the legendary drummer, percussionist and composer.
Presented by the ECSU Department of Music, the festival on April 6 and 7 will feature public performances, a jazz education concert for public school students and a jazz clinic for ECSU students.
Special guests include Joe Chambers, a drummer and percussionist who played with Roach's &quotM'Boom&quot percussion ensemble and with Miles Davis, Wayne Shorter, Charles Mingus, Chick Corea, Freddie Hubbard and Bobby Hutcherson, to name a few.
&quotFew people realize that the legendary Max Roach was born in Newland, a community in Pasquotank County not too far from the ECSU campus,&quot said Douglas A. Jackson, co-coordinator of the festival with fellow ECSU music professor Ellard L. Forrester.
Like many renowned musicians, Roach left his hometown and made his name in the industry in New York. He pioneered the bebop sound, broke ground in musical improvisation and took percussion to a whole new level. Roach's forms of musical expression were limitless. He presented not only with the typical jazz ensemble, but also with orchestras, gospel choirs and string quartets.
When Roach died in 2007, &quothe had a star-studded funeral in New York,&quot Jackson said. &quotNothing was held here to mark his passing. You'd never know that he ever walked the dirt here. People in the community — and young people studying music — need to know that we had a legendary musician who was from here.&quot
To that end, the ECSU Jazz Festival kicks off on April 6 with a jazz education concert for an expected audience of about 900 public school students at the Mickey L. Burnim Fine Arts Center's Floyd L Robinson Auditorium on the ECSU campus. Northeastern High School's jazz ensemble will play, followed by a performance by the ECSU Collegians Jazz Ensemble under the direction of Jackson.
The festival's Opening Night Jazz Jam, a public event, will be held at 7:30 p.m. on April 6 at the Arts of the Albemarle's Maguire Theatre, 516 E. Main St., in Elizabeth City.
The ECSU Faculty and Friends Jazz Combo will perform, along with the University of North Carolina-Wilmington Jazz Band Ensemble under the direction of Frank Bongiorno. Chambers will be featured during the UNC-Wilmington performance.
Tickets are $20 for adults, $5 for students and children under 12 and may be purchased at the Arts of the Albemarle ticket office or by calling the AOA at (252) 338-6455.
Chambers, who recently returned from a tour where he performed across Italy, is the Thomas S. Kenan Distinguished Professor of Jazz at UNC-Wilmington, where he has taught since 2008. His latest album, &quotHorace to Max,&quot a double tribute to Horace Silver and Max Roach, was released in 2010 to rave reviews.
&quotRoach was my mentor,&quot Chambers said. &quotHe showed me how to survive in this business and gave me many life lessons.&quot
In addition to honoring Roach, Chambers hopes the concert will reconnect the community – particularly the African-American community – with jazz music, a tradition born within the black community.
Chambers and Bongiorno will hold a morning jazz clinic for ECSU music students on April 7 at the campus. This clinic will further prepare students for the evening performance.
The festival concludes with public performances at 8 p.m. on April 7 by the ECSU Collegians Jazz Ensemble, directed by Jackson, and the ECSU Percussion Ensemble, directed by Forrester.
The performances will take place on the ECSU campus in the Floyd L Robinson Auditorium of the Mickey L. Burnim Fine Arts Center. Tickets are $10 for adults, $5 for students and children under 12 and are available at the university cashier's office in the Marion D. Thorpe Administration Building or at entrance the door of the Fine Arts Center.
&quotWe're excited about the festival,&quot Jackson said. &quotWe hope people will take this as an opportunity to come out and hear the next generation of musicians while recognizing Max Roach's contributions to music. We hope this will be the start of future presentations on jazz music and world music.&quot
For further information, contact Jackson at (252) 335-3377.
Elizabeth City State University Jazz Festival
---