ECSU's Fifth Annual Freshmen Pinning Ceremony Celebrates Viking Legacy, Resilience and Achievement
Posted On October 2, 2020
---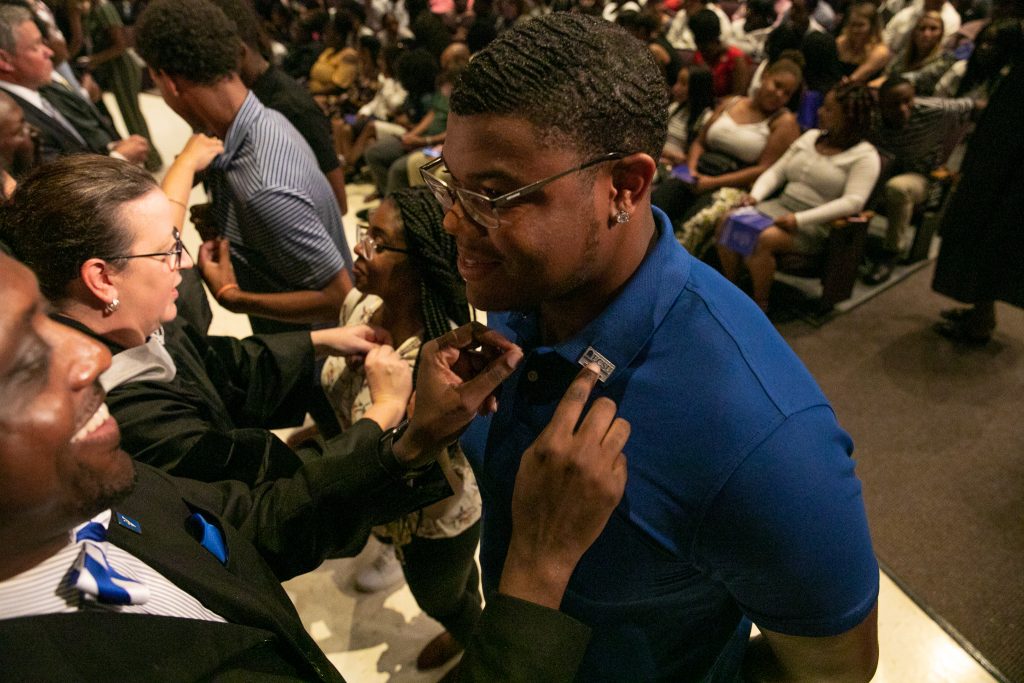 Clarence Goss and Dr. Jennifer Brown, left, pin freshmen during the 2019 Freshmen Pinning Ceremony. This year's ceremony is being done in accordance to COVID-19 health and safety guidelines.
A new class of Elizabeth City State University freshmen are being officially welcomed to the Viking family in what has become a tradition on campus, the Freshmen Pinning Ceremony. This is the fifth year for the symbolic launch of these students' college career.
"This is an exciting time in the lives of first-year students," said Dr. Tarsha Rogers, chairperson of the Department of University Studies and pinning ceremony coordinator.
Dr. Rogers says this is a time when "new Vikings are officially welcomed and initiated into a culture of excellence at ECSU." The event, she says, "is rich in symbolism and serves as a rite of passage."
Since its beginning, the ceremony has been held with great fanfare inside the auditorium of the Mickey L. Burnim Fine Arts Center. This year, however, due to concerns over COVID-19, the ceremony will involve social distancing, masks and will be pre-recorded for streaming at a later date.
On Wednesday, Sept. 30, at 3 p.m., Chancellor Karrie G. Dixon, Provost Farrah Ward, Vice Chancellor for Student Affairs Gary Brown, SGA President Jimmy Chambers, Dr. Shelia Williams, Clarence Goss, Arlinda Halfacre, and Dr. Rogers pre-recorded messages to the freshman class. On Oct. 6, students will gather in accordance to social distancing guidelines in their classrooms, and after viewing the pre-recorded comments from the Chancellor and others, they will pin themselves, rather than having faculty and upper-classmen ceremoniously place the pin. 
On that date, students across the campus will also have an opportunity to view the pre-recorded messages. The video will be made available to distance learning students via Blackboard.
"This is an opportunity for first-year students to recognize their place within the rich legacy of ECSU," said Chancellor Dixon. "While this year's event has been changed to accommodate safety and health guidelines, the spirit of the pinning ceremony is firmly intact, and these students should be proud of the legacy of this institution, and their addition to its long history."
In addition to the pinning, a Welcome Walk starting at the archway near the campus's main entrance has also become an ECSU tradition. This year, the walk will take place on Thursday, Oct. 8 at 4:15 p.m., and will be included in a final video of the entire event to be posted sometime later this month.
Through the course of both events, the freshman class inherits more than a century of history and tradition that makes up what it means to become an ECSU Viking, said Dr. Rogers.
"New Vikings learn the rich history, traditions, and the true meaning of what it means to chant, 'Viking Pride!' while achieving new goals and walking into their true, destined purpose," she said.
The event not only imbues these students with Viking Spirit, it also reinforces the spirit of academic achievement that is central to ECSU's mission.
"The class pin is presented to each first-year student as a commemoration of the ceremony and as a charge to pursue academic excellence, which will be evidenced by timely degree completion," said Provost Ward. 
After the Welcome Walk on Oct. 8, a full video of both events will be created and posted on ECSU's YouTube channel for the public to view later in the month. An announcement of the date for the final video post will be sent to the entire Viking family through university email.
---