ECSU's Fall 2021 Enrollment Increase Includes Growing Interest in Kinesiology Degree Program
Posted On September 2, 2021
---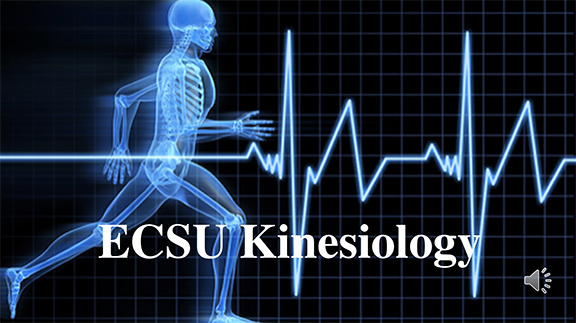 As more and more students choose to make Elizabeth City State University their campus of choice, many are looking to the future of physical wellness for their career opportunities. According to the fall 2021 enrollment census, the university's numbers are climbing and along with that climb, kinesiology made the top five list of majors for incoming freshmen.
Kinesiology isn't new to ECSU; however, it is a growing industry and many ECSU graduates are joining the growing ranks of physical therapists, occupational therapists, physical and health educators and wellness entrepreneurs who have come to know the quality kinesiology degree program with an affordable tuition. According to kinesiology professor, Dr. Kacey DiGiacinto, a degree in "the study of human movement," includes three disciplines: exercise science, fitness and wellness, and physical and health education.
It's an industry that has been and continues to draw increased interest from students, she says.
"A lot of students come to us with past athletic experience where they have worked with athletic trainers in their sports life or have recovered from injuries. They see kinesiology contributing to their interest in helping people," said Dr. DiGiacinto. "It allows them to take interest in athletics and translate that to a career."
Students who pursue a concentration in exercise science are typically preparing to enter the fields of cardiac rehabilitation or strength conditioning. It is preparation, says Dr. DiGiacinto, for graduate studies in physical or occupational therapy, and athletic training – North Carolina requires a master's degree for athletic trainers.
The fitness and wellness concentration is, said Dr. DiGiacinto, the most "flexible" area of study.
"That concentration is designed to help students earn certification in the fitness and wellness industry in areas like personal training or weight management," she said.
ECSU kinesiology students who concentrate in the physical and health education area typically go on to teach in high schools, said Dr. DiGiacinto. The ECSU program meets the North Carolina teaching licensure requirements, giving these graduates opportunities to fill needed positions in the state's public schools.
The careers in kinesiology are varied and provide ECSU graduates with a variety of opportunities, said Dr. DiGiacinto. The need for kinesiology professionals, she said, is largely due to a need to address and prevent national issues such as obesity or chronic illness. 
Teaching, for example, provides communities with prevention education. Fitness and wellness careers, she said, helps people maintain their health or return to healthy living.
"We have students who are working in K-12 schools and a lot of them have stayed in North Carolina," said Dr. DiGiacinto. "We have students who have gone on to pursue physical therapy graduate degrees."
And there are ECSU students who have taken their kinesiology education and translated that into fitness and wellness entrepreneurial opportunities. One example is 2015 ECSU graduate, Jonathan Gramby.
Dr. DiGiacinto said after graduating from ECSU with a concentration in exercise science, Mr. Gramby went on to earn a master's degree in wellness promotion and is currently pursuing certification in health coaching while running his business, Greater Things Await: Fitness and Performance, a gym and virtual fitness company.
"He develops merchandise and exercise equipment for his company and markets a meal planner guide in physical and virtual formats, and an E-book," she said.
Currently located at the R.L. Vaughan Center, the kinesiology program utilizes state-of-the-art equipment in labs to train students for future careers and meet the "job market demand" in health, fitness, and wellness.
---