ECSU's Dr. Andre Stevenson Appointed to South African University International Advisory Council
---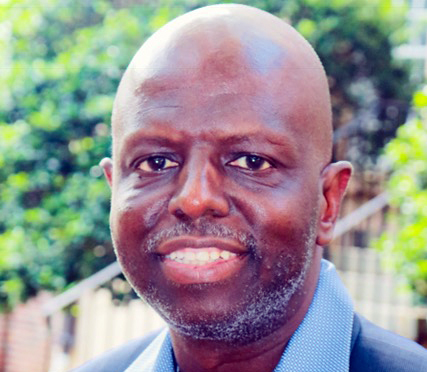 Dr. Andre Stevenson

Elizabeth City State University's Dr. Andre Stevenson is working to bring the world a new generation of doctoral candidates. In May, Dr. Stevenson was the keynote speaker at a doctoral academy seminar in South Africa, and was appointed to the University of KwaZuluNatal's International Advisory Council.
"In this role I will assist faculty with strengthening their doctoral program through assisting with developing curriculum and participating in future seminars," said Dr. Stevenson, a professor of social and behavioral sciences.
Dr. Stevenson was the keynote speaker for doctoral seminar at the university in Durban, South Africa. His presentation focused on key issues facing doctoral students, and how to make the most of their experience while in doctorate programs, and once they become faculty members.
In his presentation, Dr. Stevenson asked the questions, "Why are you enrolled in a PhD program?" He encouraged seminar attendees to focus their research on a social mission with the goal of improving the human condition.
Some of the other tips he offered draw from practical advice:
Engage in self-care: maintain good health, sleep, eat, take breaks, spend time with loved ones;
Don't take feedback personally;
Attend conferences and connect with other academics;
Don't compete, collaborate;
Avoid university politics;
Have fun: laugh, host parties and dinners at each other's homes, "Things are not going to go as planned."
Dr. Stevenson is a full professor of social work at ECSU. He was also recently appointed to serve as the director of the Global Education Center and director of the Honors Program at ECSU.
He has over 20 years of full time teaching and research experience in social work education and public health. His most recent appointments also include serving as faculty with the Foundation for Professional Development School of Business at Yale University's School of Public Health Advance Health Management Program in Pretoria, South Africa.
Much of Dr. Stevenson's academic career has been dedicated to future PhDs. He has served on several PhD dissertation and master's thesis committees, including New York University and the University of Pennsylvania; and as an external examiner for graduate student thesis work at South Africa's University of Cape Town.
Dr. Stevenson received his PhD in Social Work, Master of Public Health, and Master of Social Work degrees from the University of Pittsburg.
---