ECSU's Department of Education Partners with the Foundation for Public School Children to Grow North Carolina Teacher Pool
---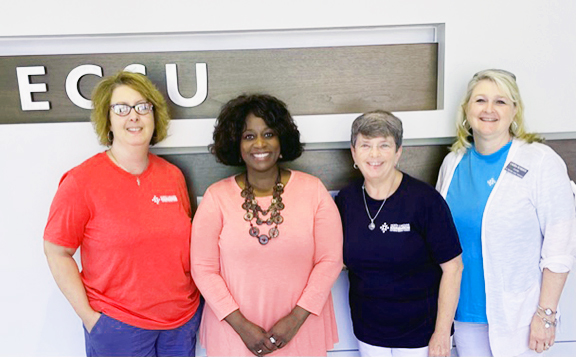 ECSU chair of the Department of Education, Dr. Shelia Williams, second from left, will work with Teacher Cadet trainers Monda Griggs, Laura Roberts, and Stephanie Wallace to educate future North Carolina teachers.
Elizabeth City State University's Department of Education has partnered with the North Carolina Foundation for Public School Children through the National Education Association Greater Public Schools Grant for Teacher Cadet. The program's goal is to attract much needed, future teachers in North Carolina. 
The Teacher Cadet course is a high school humanities course that has been offered in more than 82 school systems across the state. Students who take the course learn about the teaching profession and education at all levels.
The grant addresses the need for college/university partnerships to keep the "student to teacher" pipeline flowing, said Dr. Shelia Williams, chair of ECSU's Department of Education.
"This is very exciting," said Dr. Williams. "The partnership with Teacher Cadet is expected to increase the number of students selecting education as a major."
Teacher retention is a challenge for many of the Tier 1, economically distressed, counties in Northeastern North Carolina. Counties such as Bertie, Edgecombe, Halifax, Hertford, Hyde, Martin, Nash, Northhampton, Pasquotank, Tyrrell, Vance and Washington are all Tier 1 counties and located within ECSU's 21-county service area.
Through the Teacher Cadet program, students would begin training in high school to become teachers. ECSU's Department of Education will be actively involved in training and supporting students through the partnership, as well as recruiting them to begin their four-year training at the university, said Dr. Williams.
A field-experience component is built into the course for students to explore authentic classroom teaching and learning. The course gives students the opportunity to explore the many facets of education so that they may consider it as a viable career choice, Dr. Williams said.
The program actively recruits males and students of color to ensure school systems have a diverse teaching pool.
"Teacher Cadet is one of the best and most cost-effective teacher recruitment tools in North Carolina. College partners help to support the program by providing access to the next level of preparation for students who want to enter the field of education as well as support the effort of the content students learn in the TC course," said Dr. Williams. "Students will have the opportunity to visit ECSUs campus."
Examples of partnering include providing guest speakers to the Teacher Cadet classrooms, professional materials on loan, campus visits for recruitment purposes and student workshops.
Monda Griggs, Laura Roberts, and Stephanie Wallace, Teacher Cadet Trainers for the region, met on ECSUs campus for a two-day information session and teacher training on July 13 and 14. Connie Whedbee, a former ECSU education student, and now a high school teacher in Pasquotank County, participated in the training. She has been selected to teach the Teacher Cadet course through the CTE Program.
"We wanted to partner with Elizabeth City State in ways that support these new Teacher Cadet Classrooms as well as find ways that will benefit the institution through this collaboration," said Teacher Cadet trainer Monday Griggs. "The hope is to build a sustainable program for these school systems that will bring future teachers into ECSUs Educator Preparation Program and keep the pipeline flowing in the local communities of the northeast region of North Carolina and fill Teacher Education classes with those graduating Teacher Cadets."
The North Carolina Foundation for Public School Children's Teacher Cadet courses are expected to begin in the fall for schools in the region. Marca Hamm is the foundation director.
---