ECSU's 5th Annual Day of Giving April 30
---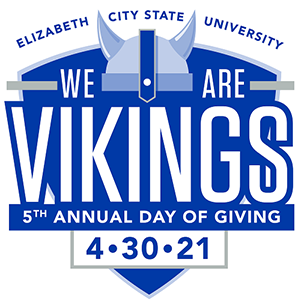 Elizabeth City State University will hold its 5thannual Day of Giving April 30. This year's fundraising goal is $50,000.
"This year's theme is 'We Are Vikings,' letting everyone know that Vikings are strong, and we are ready for whatever comes our way," said Vice Chancellor of University Advancement, Anita Walton.
The Day of Giving raises funds to assist the next generation of Vikings to achieve their academic ambitions. Donors are asked to give to one of the university's academic schools – Humanities and Social Sciences, Education and Business, and Science, Aviation, Health and Technology, as well as general scholarships.
"The goal is to raise $50,000 in 24 hours," said Ms. Walton. "With so much support from alumni and our many Viking supporters, we are excited about this year's event."
For 130 years, generations of Vikings have invested in future students, celebrating a rich history of accessible education. Many graduates are generational Vikings and understand the power of supporting future students.
"My family has a generational legacy as ECSU graduates," says Gemaine Berry Gillis. "This, in itself, motivates me to give towards ECSU's scholarships. Each of my family members, as well as myself, became doctors, lawyers, teachers and business professionals. Giving back helps support future students and helps them afford the same educational opportunities."
ECSU graduate and Elizabeth City businessman, Billie Reid, also sees giving as a matter of legacy. It is a legacy, he says, that speaks to the character of ECSU.
"It is our call to arms to fight for the continuation of this institution through our gifts, even in sacrifice," he said.
To give to the future of students attending ECSU, go HERE. There will also be Curbside Giving at the K.E. White Center on April 30,from noonto 2 p.m. and 5:30 to 7:30 p.m. Donors can bring their gifts without leaving their cars.
There will also be on-site music with DJ 307 at noon and live music from the Check the Resume series with Vike Soul at 5:30.
The Day of Giving will last 24 hours.
"Your gift will contribute to the rich history of securing accessibility for our students and their academic futures," said Ms. Walton.
---