ECSU's 2021-2022 Departmental Teachers of the Year 'Represent the Finest Qualities' in University Faculty
Posted On October 26, 2021
---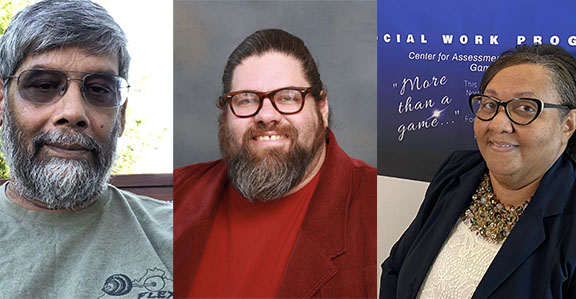 ECSU's 2021-2022 Departmental Teachers of the Year are, left to right, Dr. Dipendra Sengupta, Dr. Roberto Frontera-Suau, and Dr. Kim Downing.
The Elizabeth State University's Teacher of the Year Committee has named three Departmental Teachers of the Year. Dr. Roberto Frontera-Suau, Dr. Dipendra Sengupta, and Dr. Kim Downing have received the honors for the 2021-2022 academic year. 
Each candidate for this honor must be a full-time faculty member, with at least five years of teaching at ECSU; have taught an average of at least nine credit hours over the last three academic years; and must not have received this award within the past three years.
"I congratulate these three professors who have demonstrated both a passion for teaching and the ability to effectively communicate discipline-specific subject matter to their students," said ECSU Provost Farrah J. Ward. "They represent the finest qualities found in our faculty and I am thankful for the contributions they have made to so many of our students."
Dr. Kim Downing
Dr. Downing is the director of ECSU's social work program. Her passion for social work can be seen in her many activities and her love of her students and their success in a field she has been involved with for over 30 years.
"I am especially invested in the work of preparing general practitioners because I view this opportunity as my contribution to the future success of this field," she said. "It is my privilege to positively contribute to the formation of my students during their collegiate experiences."
Dr. Downing says the teaching philosophy that informs her methodology is "application, reflection, integration."
"I maintain the expectation for my students to possess the capacity to apply the theoretical frameworks presented in class," she said. "But beyond mere regurgitation of information, I also deem it necessary for them to critically reflect on specific scenarios and interventions that they can personally engage as they individually cultivate their unique clinical approach. After which, I believe this process culminates in their ability to integrate that which they have obtained as they complete field education and, eventually, progress into their respective careers."
Dr. Downing says she wants her students to know that she "firmly believes success is well within their reach." She believes, she says, they all possess potential and can accomplish their goals.
"My pledge to my students exceeds the four walls of the classroom," she said. "As much as lies within my power, I will do all that I can to support, uplift, and encourage my students, thus placing them on a positive trajectory to success."
Dr. Roberto Frontera-Suau
Dr. Frontera-Suau has been on the ECSU campus since 2000, when he arrived as a post-doctoral fellow in the SPIRE program for what was then the Department of Biology. Now, 21 years later, he is a full professor in the Department of Natural Sciences and loves his work.
Why did Dr. Frontera-Suau choose to become a professor of natural sciences?
"My mother always said I was in love with the sound of my own voice," he said.
It is that sense of humor that puts someone at ease and it is accompanied by a live and let live philosophy coupled with a desire to see his students succeed that leads his approach to educating a new generation of biologists.
"Meet the students where they are," he says. "Set the bar high and be there to give them the push when they need it."
Dr. Frontera-Suau says that learning to love learning is paramount to success. He wants his students to embrace that notion and pursue knowledge.
"What a sad waste of effort and time when we learn for obligation instead of trying to satiate our own curiosity," he says.
Dr. Dipendra Sengupta
Dr. Sengupta is a professor in the Department of Mathematics, Computer Science, and Engineering Technology. He says that his goal is to bring to his students the concept that mathematics can be treated as "experimental science."
Teaching mathematics as a university professor offers him "intellectual freedom," and the opportunity to constantly learn and "to engage with highly stimulating problems."
Teaching students, he says, is highly rewarding, "allowing you to shape and inspire the next generation of academics."
Sharing knowledge and his love of learning is behind Dr. Sengupta's teaching philosophy.
"I believe that learning takes place when students construct their own representation of knowledge," says Dr. Sengupta. "Facts and formulae will not become part of deep intuition if they are only committed to memory. They must be explored, used, revised, tested, modified, and finally accepted through a process of active investigation, argument, and participation."
Dr. Sengupta says that he loves learning and he loves people. Students are here to learn, he says, and it is incumbent upon him to engage them and provide them with the push needed to succeed.
"I will push you without losing you, but I will not give up on you," he says. "I understand the walls outside of this classroom and think about them as context for everything we do here."
---