ECSU's 174th Commencement Ceremony
---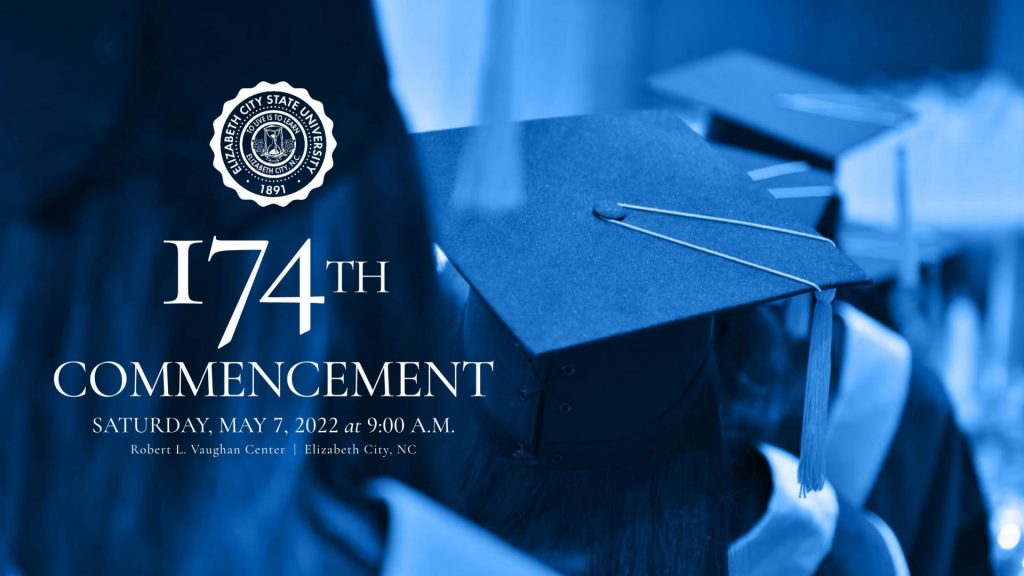 Elizabeth City State University (ECSU) celebrated its Spring 2022 graduating class on Saturday, May 7, 2022, at the Robert L. Vaughan Center on campus.  A total of 246 students earned degrees ranging from Digital Media to Homeland Security to Sports Management and more.
"We are so proud of our graduating class; it has been an honor to be part of their journey.  We have watched our students grow and develop into leaders, experts, and innovators throughout their time at the university, and we look forward to seeing their achievements in the future," said ECSU Chancellor Karrie G. Dixon.
Bearer of the Mace / Bearer of the Shield
Achaunti Hayward and Ms. Savannah Hess shared the Bearer of the Mace honor, which is presented to the student who entered ECSU as a first-time freshman and has the highest cumulative Grade Point Average (GPA) in the graduating class. Ms. Tiffany Packard received the Bearer of the Shield accolade, which pays tribute to the transfer student with the highest cumulative GPA in the class.  All three graduated with a 4.0 GPA.
ROTC Commissioning
Ms. Marissa Brown and Mr. Jordan Hathaway Commissioned in the United States Army, pinning the rank of Second Lieutenant (2LT), at the ECSU Army ROTC Commissioning Ceremony on Friday, May 6 in the Floyd L. Robinson Auditorium. They reaffirmed the Oath of Office during Commencement.  Ms. Brown will serve as a Transportation Corps Officer in the U.S. Army Reserve and Mr. Hathaway will serve as a Military Police Corps Officer on Active Duty.
Honorary Doctorate Degrees
Honorary Doctorate Degrees were bestowed upon Senator Philip E. Berger and Dr. Jeanette H. Evans.
Senator Berger's leadership has positively impacted ECSU, which is the only 4-year university and HBCU in northeastern North Carolina.  He was instrumental in implementing the NC Promise to keep college affordable and accessible for students in the state, as well as an historic investment in the future of the university.

Dr. Evans shares a deep love for her alma mater and has served tirelessly as an active officer and member of the ECSU National Alumni Association.  She also served as de facto chief of staff during Chancellor Burnim's 11-year tenure, sharing her wisdom and experience with the leadership team and others at the university.
2021-2022 Board of Governors Award for Excellence in Teaching
Dr. Kulwinder Kaur-Walker, professor in the Department of Health and Human Studies, was recognized by the UNC Board of Governors for her exemplary teaching. This award underscores the importance of teaching and encourages, identifies, recognizes, rewards, and supports good teaching within the UNC System. She was nominated for this award by the ECSU faculty.
Professor Emeritus
Dr. Charles Cherry was conferred Professor Emeritus Status for his distinguished 20-year service and contributions to ECSU as a tenured professor in the former School of Education and Psychology.
Keynote Speaker
The Commencement Speaker was Nahum Jeannot, the CEO of GoOats and a former contestant on ABC's hit show Shark Tank®.  Earlier this year, Jeannot coached student teams as they prepared to compete in Viking Entrepreneurship Week, an inspiring competition that gave student-entrepreneurs from North Carolina's  HBCUs the opportunity to pitch their ideas in front of business professionals.
Watch the ceremony on ECSU's YouTube Channel.  [The technical issues at the beginning get resolved, so please keep watching.]
Photos from the ceremony will be posted online.
Download a free copy of the 174th Commencement Ceremony Program.
---