ECSU's 173rd Commencement Ceremony
Posted On December 13, 2021
---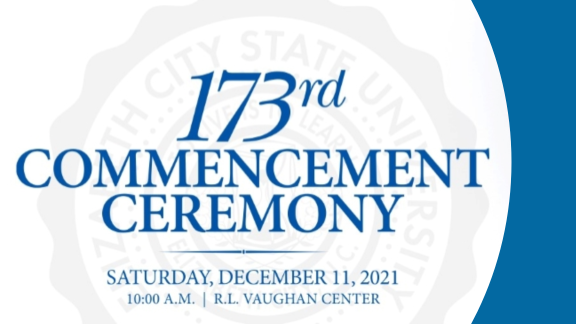 Elizabeth City State University (ECSU) celebrated its Fall 2021 graduating class on Saturday, December 11. A new accolade was added to the 173rd commencement ceremony: Bearer of the Shield which acknowledges the transfer student with the highest cumulative grade point average (GPA).
"We salute the courage, resilience, hard work, and accomplishments of our new graduating class. We are extremely honored and proud to have been part of their journey, and look forward to seeing all they will achieve in the years ahead," says ECSU Chancellor Karrie G. Dixon.
Below are highlights from this weekend's commencement ceremony.
A total of 152 students walked across the stage. They join the ranks of 20,000+ ECSU alumni who continue to make a difference in their communities and beyond.
Taylor Pierce was Bearer of the Mace, which is reserved for the student who entered ECSU as a first-time freshman and has the highest cumulative GPA in the graduating class.
Ms. Alexis Harper and Ms. Anna Johnson were the inaugural Bearer(s) of the Shield, which is ECSU's new honor for the transfer student with the highest cumulative GPA.
"We are proud to announce that ECSU will honor both a Bearer of the Mace and a Bearer of the Shield at each commencement ceremony going forward. Our transfer students work just as hard as those who join our campus as freshman, and it is important we acknowledge and celebrate their achievements as well," said Chancellor Dixon.
Mykah J. Wright is a newly commissioned Second Lieutenant (2LT) in the Army, and her Oath of Office was reaffirmed during commencement. The newly-graduated 2LT will head to Fort Lee, Virginia, where she will attend the Ordnance Corps Basic Officer Leadership Course.
Harry L. Williams, President and CEO of the Thurgood Marshall College Fund, gave the commencement address. Thurgood Marshall College Fund is the largest organization that exclusively represents the black college community. It has built a supportive network among Historically Black Colleges and Universities (HBCU) leaders and helped educate 300,000 students.
Watch the ceremony live starting at 10:00AM on Saturday, December 11 on ECSU's YouTube Channel.
VIDEO: watch on ECSU's YouTube Channel
PHOTOS:  see ECSU's Flickr Channel
---