ECSU Works with Coast Guard to Educate Future Leaders
---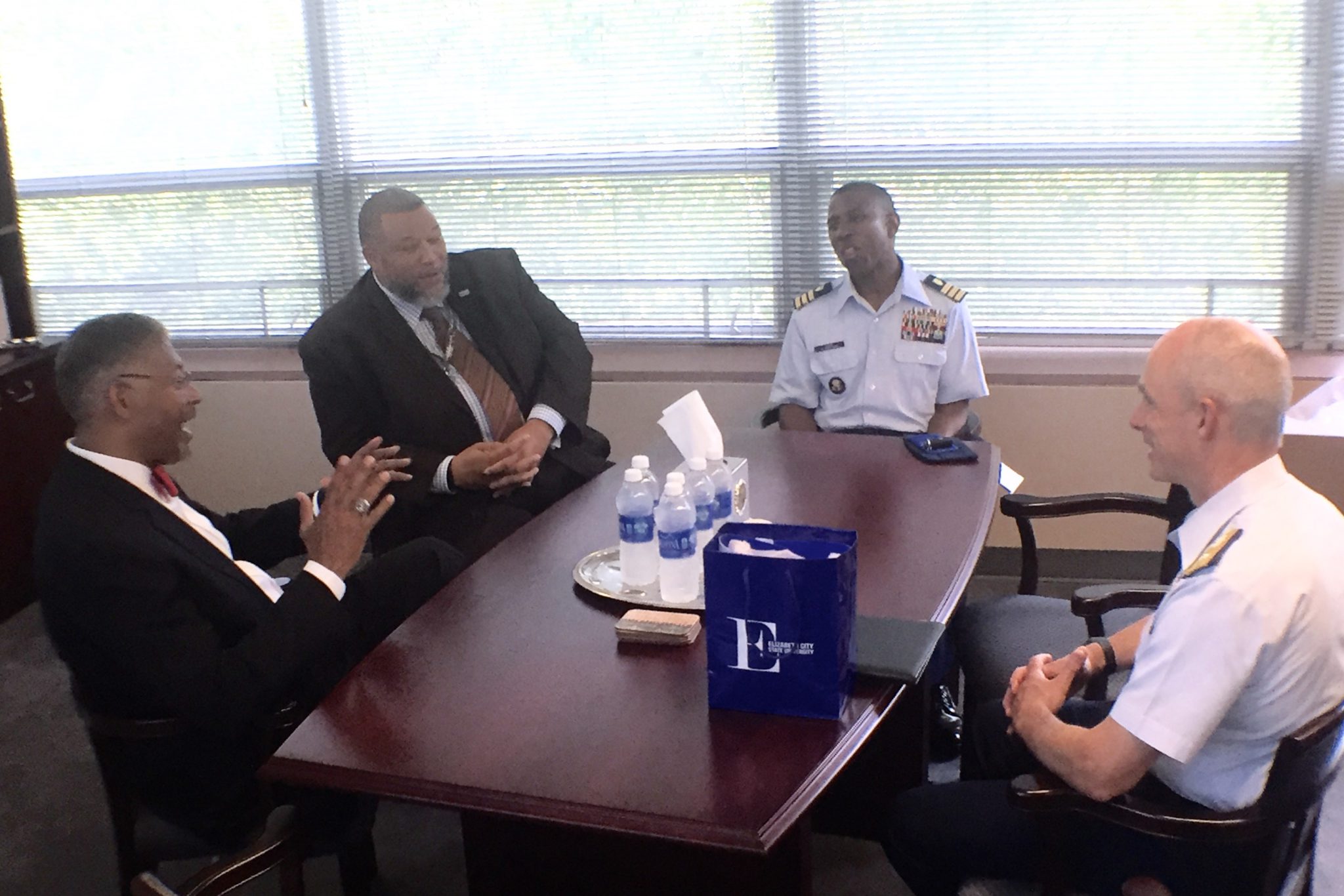 Elizabeth City State University is committed to educating future leaders. And future Coast Guard leaders are coming out of the university and heading to Officer Candidate School.
Joining ECSU Chancellor Thomas Conway in his office Friday, July 22, 2016, was ECSU Director of Veterans and Military Services Tim Freeman, Coast Guard Base Elizabeth City Executive Officer and ECSU graduate, Cmdr. Warren Judge, and Coast Guard Adm. Bill Kelly. Adm. Kelly and Cmdr. Judge toured the campus and enjoyed lunch while discussing the future of educating members of the Coast Guard at ECSU.
Currently, ECSU participates in the College Student Pre-Commissioning Initiative (CSPI), offering a university education to men and women enlisting in the Coast Guard. Upon graduation, the enlisted service members then attend Officer Candidate School (OCS) to become commissioned officers in the Coast Guard. Cmdr. Judge noted that there are currently six ECSU graduates on their way to OCS.
Cmdr. Judge is an example of how a relationship between the Coast Guard and ECSU can change one person's future. He joined the Coast Guard behind his brother after leaving the University of Florida as a student. While working as an enlisted service member, Cmdr. Judge was stationed at Base Elizabeth City. He enrolled at ECSU, earned his bachelors in computer science, and went on to OCS.
Cmdr. Judge would go on to have a stellar career in the Coast Guard. And through programs such as CSPI, it is possible for any young man or woman to thrive beyond graduation.
One of ECSU's most recent CSPI success stories is Tyler Pryor. Pryor graduated from the ECSU aviation program in May, 2015. He had the honor of being the only student in the country accepted into the U.S. Coast Guard's Wilks Flight Initiative program.
Pryor was already enrolled in the Coast Guard's College Student Pre-Commissioning Initiative, sending him to Officer's Candidate School after graduation. Pryor says his goal has always been to be an aviator, and so his experience in ECSU's aviation program – the only degreed aviation program in the UNC system – prepared him for his future as a Coast Guard aviator.
The summer before Pryor's senior year, he attended Coast Guard boot camp at Cape May, New Jersey. Once he returned to ECSU, he served as an enlisted member of the Coast Guard while finishing his degree.
Pryor says Elizabeth City State University has made his dreams come true. He says if it were not for his alma mater, he might not have been able to pursue his dream.
"I am 100 percent certain I would not have gotten this opportunity anywhere else but Elizabeth City State University," said Pryor.
Pryor completed Officer Candidate School last fall, graduating at the rank of Ensign. He began his aviation training in Pensacola, Florida, in December 2015. He said his goal is to pilot the H-60 helicopter and then become an engineer, working with a variety of aircraft in the Coast Guard.
According to www.gocoastguard.com the CSPI scholarship program is, "designed for motivated individuals who demonstrate a high caliber of academic and leadership excellence and who desire to serve their country in the United States Coast Guard. Students currently enrolled or accepted for enrollment in a full-time bachelor's degree program at designated college or institution (defined in item 6 below) with the desire to complete college and receive a guaranteed commission as an officer in the United States Coast Guard can apply for CSPI. This means that a student currently pursuing an AA/AS degree at a junior college or community college who plans to continue with their BS/BA degree may be eligible for CSPI if they are accepted for enrollment at a qualifying college."
---