ECSU welcomes youths for summer ACE Academies
---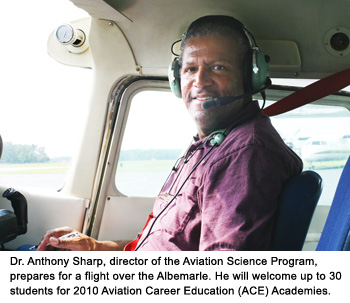 Kesha Williams
June 28, 2010
Dr. Anthony Sharp, director of the Aviation Science Program and director of the ACE Academy at Elizabeth City State University, says now is the time for area youths to begin thinking about their careers. A week-long ACE Academy is just the program to open their eyes to a fleet of opportunities.
Elizabeth City is one of three sites for the N.C. Department of Transportation's&ampnbsp Division of Aviation to hold the 2010 Aviation Career Education (ACE) Academies. Other sites are Greensboro, Charlotte-Monroe and Winston-Salem, N.C. The camps will focus on aviation, airplanes, flying the theory of flight, aviation history, and careers in aviation. Participating students will also attend field trips that reveal aviation career options. ECSU is expecting 15 high school students to attend camp held June 27 through July 2.
Later in July, July 11 – July 16, the university will hold an All Girls ACE Camp to encourage females to learn more about careers in aviation. It's the first time the university held an All Girls Ace Camp but the second time the university held a camp for high school youths. Expecting 15
&quotWe decided to offer the All Girls Camp this year so they could meet women who have had significant experiences and careers in aviation. These speakers will tell the youths how they reached those positions,&quot Sharp said.
&quotOurs is a residential camp that will also allow participants to live on a college campus for a week, eat in the cafeteria and briefly experience college life. During the ACE camp they will participate in hands on &quotWe will take the students to the local airport, the Coast Guard Base, Kitty Hawk where aviation began and a few more places. They will&ampnbsp also take a flight over Elizabeth City. We're excited about this camp.&quot
The Aviation Science Program of Elizabeth City State University educates and trains students for careers and opportunities in aviation and space science.
---