ECSU welcomes North Carolina Teacher of the Year
Posted On February 28, 2012
---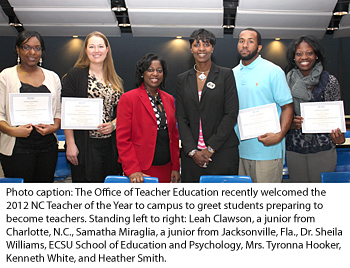 Kesha Williams
February 28, 2012
The Office of Teacher Education recently brought the 2012 NC Teacher of the Year, Tyronna Hooker to campus to speak for ECSU's education majors/prospective teachers. Hooker, a middle school teacher in the Alamance-Burlington School System, brought a wealth of experience to the classroom as a former correctional officer, an adult probation officer and a child protective service investigator. Hooker said being a therapeutic foster parent for several young people from 1997-2006 helped her understand the lack of success some children experience in the classroom. She decided to change careers, earned additional education and became a teacher. At ECSU she provided some heartfelt advice for the prospective teachers in the audience.
&quotIt is critical that all teachers continue to evolve with the rapidly changing times to address the needs of the next generation of students. In order to make this happen, let's support each other and participate in professional learning communities,&quot Hooker said.
&quotLet's roll -up our sleeves and persevere together to focus on the task at hand instead of making excuses or waiting for someone else to save public education. We may not be traditional super-heroes with capes or titles on our chests, but our willingness to teach the skills necessary for the 21st Century makes us every student's hero.&quot
For nine years, Hooker taught social studies at Graham Middle School in Graham, N.C. She became an instructor for exceptional children in the last year. Hooker earned a bachelor's degree in criminal justice from North Carolina Central University, teacher certification from the same institution a master's degree in education with a specialization in special education from Elon University.
Hooker worked several years in the criminal justice system and the Department of Social Services before becoming a teacher. She serves on a number of committees including the Positive Behavior Intervention Support and Response to Intervention teams.
Her recognitions and affiliations follow:
Recognition/awards
North Carolina State Teacher of the Year (2011-2012)
Piedmont-Triad/Central Regional Finalist (2010-2011)
Alamance-Burlington School District Teacher of the Year (2010 – 2011)
Graham Middle School Teacher of the Year (2010 – 2011)
Graham Middle School Outstanding Teacher Award (2008)
Gold's Gym Teacher of the Month Award (2007)
&quotTheBest All Around&quot Award for teaching (2006)
Professional affiliations
National Education Association
North Carolina Association of Educators
Alamance-Burlington Association of Educators
Burlington Alumnae Chapter of Delta Sigma Theta Sorority, Inc.
---