ECSU Volleyball and Basketball Teams Scheduled for Honor on March 22 by NC General Assembly and Representative Bill Ward
---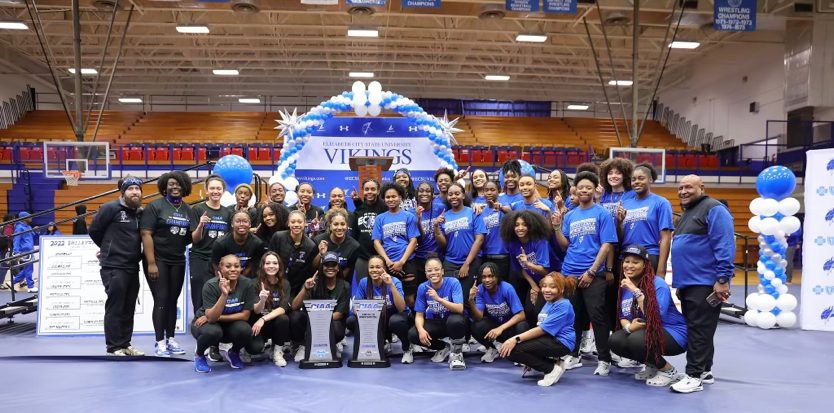 The North Carolina State Legislature will host the Elizabeth City State University (ECSU) 2022 CIAA Championship-winning women's volleyball team and 2023 CIAA Championship-winning women's basketball team on Wednesday, March 22, 2023. The teams, their coaches, along with Dr. Karrie G. Dixon, chancellor of ECSU, and James M. DuBose, athletics director, will be guests of NC Representative Bill Ward (District 5). Ward serves Camden, Gates, Hertford and Pasquotank counties and will present the teams with a State Proclamation.
The women's volleyball team captured the 2022 CIAA Volleyball Tournament Championship on November 12, 2022, in Salem, VA, in a 3-1 upset over Shaw University. The team is led by Head Coach David Brooks. The women's basketball team is the first in ECSU's history to earn a CIAA Women's Basketball Tournament Championship following a 55-40 win over Shaw University on Saturday, February 25, 2023, at the CIAA Tournament in Baltimore, MD. Tynesha Lewis serves as head coach for the women's basketball team.
"As your Representative, it is an honor and a pleasure to celebrate the historic CIAA wins of the ECSU 'Women's Vikings' Volleyball and Basketball teams," said Ward. "We are proud to share with everyone in the legislature all the hard work put into these wins by the players and coaching staff. Congratulations! I look forward to working and serving with ECSU in the future. Viking Pride! Viking Pride! Viking Pride!"
Dr. Karrie G. Dixon, ECSU chancellor, stated, "ECSU is thankful to the North Carolina State Legislature for recognizing and hosting our CIAA Champion-winning women's volleyball and history-making women's basketball teams on March 22. This acknowledgment honors the hard work of our student-athletes and the entire athletic staff.  During Women's History Month, we are especially proud to celebrate our women's athletic programs and recognize them as examples of trailblazers in our great state."
ECSU Volleyball and Basketball Teams Scheduled for Honor on March 22 by NC General Assembly and Representative Bill Ward

WHO:

North Carolina State Legislature and N.C. Representative Bill Ward to Honor 2022 CIAA Volleyball Tournament Champions and 2023 CIAA Women's Basketball Tournament Champions

WHEN:

Wednesday, March 22, 2023, at 2 p.m.

WHERE:

North Carolina General Assembly

NC Legislative Building

16 West Jones Street

Raleigh, NC 27601

MEDIA NOTE:

Please adhere to regulations of N.C. Legislature.
---