ECSU Visual Arts Students Display Work at Arts of the Albemarle
---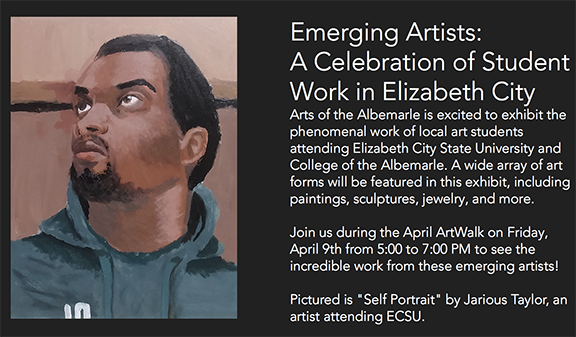 Elizabeth City State University visual art and graphic design students are joining fellow art majors from College of The Albemarle in a joint show at Arts of the Albemarle. "Emerging Artists: A Celebration of Student Work in Elizabeth City," opens Friday, April 9 at 5 p.m. with a reception at the downtown art center gallery.
According to visual art professor Jeff Whelan, 10 ECSU students will be showing work alongside COA students. The show will hang in AOA's Jaqueline Jenkins Gallery throughout the month of April.
"These students display a breathtaking level of seriousness, approaching problem solving and creativity in both fine and applied arts," said Mr. Whelan. "What I really love to see is their passion for communicating their ideas."
Arts of the Albemarle is located at 516 E. Main St. in downtown Elizabeth City.
---