ECSU trio wins award from Department of Homeland Security
---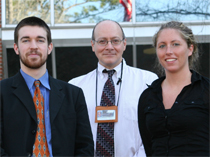 Kesha Williams
March 29, 2010
Dr. Lloyd Mitchell, an ECSU assistant professor in Health and Physical Education, was awarded one of the Department of Homeland Security's top awards for his research involving communications and risk management operations along U.S. borders.
Assisting in the research were two sophomore ECSU students, Ms. Brittany Friend and Mr. Kevin Baldwin. Ms. Friend is a dual major in Criminal Justice and Health and Physical Education. Mr. Baldwin is also a dual major in Geology and Health and Physical Education. Both have been involved with the DHS training program titled 'Working Together for A Safer Tomorrow' since 2008.&ampnbsp
The award was presented by the Office of the Secretary, Department of Homeland Security, at a luncheon at the Renaissance Hotel in Washington D.C. at the DHS Summit, the annual meeting of all professionals and researchers affiliated with DHS's Directorate of Science and Technology.
---