ECSU Travel Abroad Program Explores Barcelona Spain
---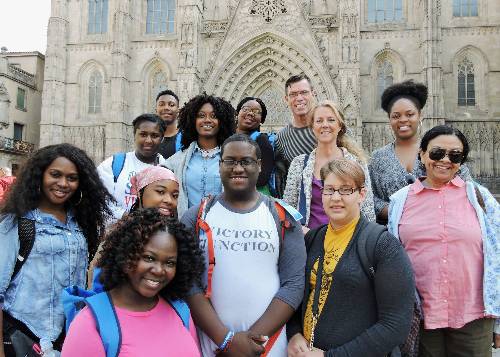 The modernist cathedral La Sagrada Familia designed by Antonio Gaudi people watching along the famed boulevard Las Ramblas laundry dangling on lines strung across waterfront buildings in the neighborhood of Barceloneta and the medieval Gothic cathedral tucked away in the city's old quarter. These are just a few of the sights which unfolded in front of 10 Elizabeth City State University students when they made a trek to Barcelona Spain earlier this year.
Trips abroad such as this one to Barcelona have been a regular feature for ECSU students interested in seeing the world. According to Dr. Mary-Lynn Chambers who hosted this latest journey students have visited a number of countries including most recently London England and look forward to touring parts of Eastern Europe next year.
"The trip was a wonderful opportunity for the students to gain a more global perspective that expanded their knowledge of a country and what it means to travel abroad" said Chambers. "It opened their eyes to new opportunities that are available to them in the global marketplace."
Chambers says that the travel abroad program not only provides students with new experiences but also lessons. If ECSU students choose they can earn an academic credit as long as they are willing to do the extra work involved says Chambers.
"It's very academically-oriented with an official tour guide from the country who educates the group throughout the tour" said Chambers.
Students such as Joshua McCoy and Cheyenne Butler say the trip to Barcelona gave them the chance to experience a new culture and the thrill of international travel.
"I saw a once-in-a-lifetime opportunity to experience the culture of other people" said McCoy.
Traveling abroad he said showed him that there is much to learn in this world.
"I learned that everyone should travel more" said McCoy. "You never know what the world is truly like until you step out of the country. People were so nice and helpful minus a few pick pockets."
For Butler the experience showed her that while cultures may differ people are generally nice. The group she said had a cancelled flight and that experience opened her up to the realization.
"It made me realize that even though people come from different walks of life that everyone overall is very friendly and willing to help you no matter what" she said. "No matter how many times I got turned around someone was always willing to help me find my way to where I was going."
Next year the travel abroad program says Chambers will be going to Eastern European locations such as Budapest Hungary Krakow Poland Prague Czech Republican and Vienna Austria. Like the Barcelona trip students will have the opportunity to learn something new and experience something unforgettable.
For more information about the next international travel opportunity contact Dr. Mary-Lynn Chambers by email at mchambers@ecsu.edu.
---